Shop assistant attacked in Papakura has been in 'peaceful' NZ for just two weeks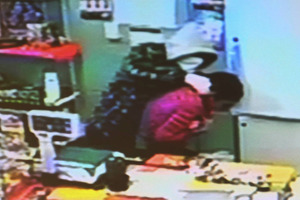 Nisha Rani told her attacker to take whatever he wanted, "just don't harm me". He even took cash from a shrine.
A violent robber has devastated a family who built their business from scratch but are so fed up with crime they want to shut down for good.
About 3.15pm yesterday, a masked and hooded man robbed the Nature Grow Dairy at 69 Great South Rd, Papakura. Footage shows him grabbing and throwing around Nisha Rani, 20, who was managing the family-owned store.
Owners Reeta and Jai Sharma said it was the ninth robbery since they started the business late last year.
Nisha, who is Reeta's sister, was thrown into a refrigerator before escaping by crawling between shelves to get out through a glass door. The Sharmas supplied footage of the violence to help catch the attacker.
Nisha arrived from India only 15 days ago, believing it was a peaceful country. She was badly shaken, but recounted what happened.
"I said, 'Whatever you want, take it. Just don't harm me'."
Nisha was looking after the store and waiting for her sister to take over for the evening. "I said, 'My sister is coming', and then he got scared."
Reeta was running late, and blamed herself for not being there. Once she arrived, she phoned husband Jai, who drives a taxi.
"They called me around 3.45," Jai said. "I was getting ready to go to work."
Jai was in disbelief after viewing the CCTV footage and seeing the wreckage in his store.
"This is the worst," he said, comparing the violent attack to the eight previous robberies.
The thief even stole money from a small shrine the family have in the corner of the store.
Reeta urged the thief to turn himself in.
Police already have bootprints, DNA samples and other evidence which the Herald on Sunday has chosen not to reveal. The thief is understood to be a young Polynesian.
Reeta said she and Jai took over the empty premises 10 months ago with a dream of building a business. But a plague of robberies, mostly by teenagers, drained their resources.
Reeta said local police needed more resources, and courts had to take a harder line on juvenile criminals. "The system is not good at all."
Reeta said it was likely the family would close the store because she did not want to expose her two young daughters to any more violence. "Life is more precious than money."
Nisha has enrolled in a local polytech to study early childhood education and care, but last night was considering leaving New Zealand.