Illness count well down on last year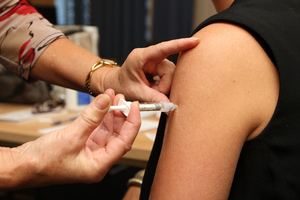 If you've come down with a dose of the flu this winter, you can consider yourself one of the unlucky few.
Flu rates have plummeted as increased vaccination, mild weather and better hygiene keep the spread of bugs at bay.
Canterbury District Health Board virologist Dr Lance Jennings said national health monitoring showed flu had lessened its grip this year.
"There really is very little influenza about ... just sporadic cases throughout the country."
Increased vaccination played a part - rates of take-up soared 25 per cent on last year, with 1.25 million people vaccinated nationally this year, Jennings said.
Auckland District Health Board figures show the number of people diagnosed with the flu after going to Auckland City and Starship hospitals in June and July was down by almost two-thirds on the same time last year. Twenty-four people were diagnosed with the flu in June and July, compared with 63 in June and July 2012.
Flu rates in Waitemata District Health Board hospitals for 2012 were not available, but a board spokeswoman said 19 people have been diagnosed with the flu since April. Board infectious diseases physician Dr Hasan Bhally was confident fewer people were suffering from the virus.
"Nationally, the consultation rate for influenza-like illnesses is almost half what it was last year. That's a pretty good prediction of what's going on in the community."
The two main flu strains doing the rounds were included in this year's vaccine, and that likely contributed to the lower numbers falling ill.
Mild weather and increased education around preventing the spread of disease were also a factor, Bhally said.
He urged people to keep up their good habits as the flu season usually peaked in the second half of August.