Bwana was a lifetime companion for the man who really did run away with the circus.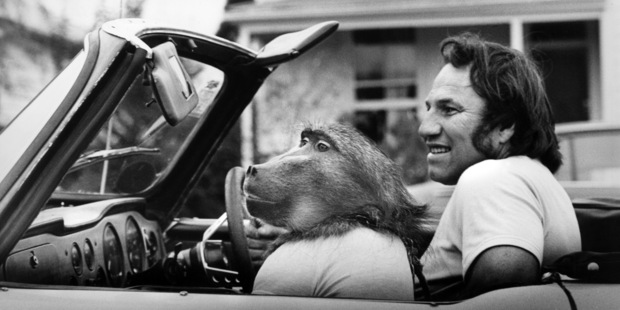 Heads turned to stare as Bwana the baboon coasted down the motorway in a sports car on the afternoon of May 17, 1983, but for driver Tony Ratcliffe this monkeying around was daily life.
Ratcliffe ran the Whirling Brothers Circus for 40 years, travelling with his entourage of animals to places such as New Caledonia and Tahiti to perform.
"In those days, circuses were fashionable," he says. "Every boy and girl dreamed of running away with the circus. I just wanted to be a clown."
Adopting Bwana as a baby, Ratcliffe would take him to children's matinees at the movies, have him sitting up front in his truck on long-haul drives and dress him in clothes.
"You could take him anywhere, he was just like a kid. He loved jellybeans, and would fill his whole mouth up with them and jump up and down. Animals are like children and they get a love for the people that work with them. I had an affinity with the animals, and Bwana was a member of our family."
Another Ratcliffe family member for 30 years was elephant Jumbo, now known as Mila, who made headlines last year after an incident that resulted in the death of her keeper at Franklin Zoo.
"The accident affected me no end, I've got a broken heart over it all," Ratcliffe admits. "I went and saw Jumbo about 12 months ago, and she remembered me like it was yesterday. She played a massive part in my life."
Now retired from the circus, Ratcliffe says he still has company in the shape of budgie Joey, who sits on his shoulder each night to watch TV and have a chat. "As far as the animals went, they always came first and still do. They're just like people; animals are just like people."
Bwana died of old age 10 years ago.