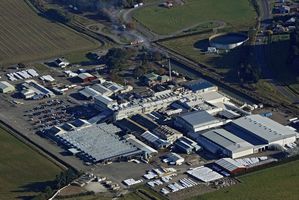 An error with carton labels which stopped a container of meat getting into China has led to about 240 workers being temporarily out of their jobs at Alliance Group's Pukeuri freezing works near Oamaru.
The workers were sent home on Thursday, but New Zealand Meat Workers' and Related Trades Union general secretary Graham Cooke hopes they will still get paid the collective agreement's minimum weekly wage because the problem was the company's.
It is not known when workers will be recalled, but it may not be for up to two weeks.
This is the fourth food trade issue New Zealand has had with China this year.
Alliance's general manager of processing, Kerry Stevens, said yesterday Pukeuri's certification for exports to China was suspended by the Ministry for Primary Industry last month because cartons in the container were incorrectly labelled.
Only the one container was affected and it was being returned to New Zealand.
The cost to Alliance was commercially sensitive, he said.
Mr Stevens said the problem was not related to the Chinese freeze on imports of New Zealand meat in May when wrong paperwork was provided in a format which China would not accept. That was resolved at the end of May.
Pukeuri was the only plant affected, with Alliance's Smithfield works, in Timaru, taking over processing sheep and lamb so the company could continue to supply its Chinese customers.
The error was not a result of any new requirements by the Chinese, but resulted from administrative problems at Alliance's corporate headquarters in Invercargill and at Pukeuri.
Chinese market regulations require a label on both the inside and outside of the carton.
The Pukeuri cartons in one container were labelled only on the outside.
The issue related solely to labelling, not the meat itself, and the error had since been addressed.
The company was now awaiting confirmation from the Ministry that the action taken was satisfactory and certification would be restored.
Once that occurred, the workers would be recalled to the plant.
"We regret this situation has occurred and, of course, its impact on our employees. We are hopeful the situation will be resolved in the coming weeks," Mr Stevens said.
Pukeuri is continuing to process bobby calves.
Mr Cooke said yesterday workers were told on Thursday what had happened and he learnt about it later that day when contacted by media.
He did not know exactly when the workers would go back - that depended on the Ministry restoring certification.
Asked if workers would get paid while stood down, Mr Cooke said the company had an obligation under the collective agreement to pay a minimum weekly provision of $525 gross, unless it terminated their employment.
He was unable to say how that would have compared to the wage they would have received if they had been working because it "varied dramatically", but it was "very much less".
Waitaki MP Jacqui Dean hoped the plant would resume processing as soon as possible, and she had spoken to Primary Industries Minister Nathan Guy, who shared her concern.
"My main concern is for the workers and that they not be left without employment. I just hope the plant gets its administration problems sorted so everyone can settle down and get back to what they do best - producing top quality product for the export market," she said.
In June, Alliance won the HSBC excellence in New Zealand-China trade category at the New Zealand China Trade Association awards.
The category was for companies excelling in growth of their product or service to China, or importing and distributing through New Zealand Chinese-sourced product or service.
Earlier this year, Alliance and its Chinese partner, Grand Farm, began developing a six-point blueprint, designed to further grow business between the two companies.