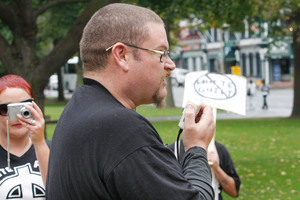 A far-right nationalist group is upping its campaign to recruit enough members to become a registered party.
The Resistance Party's leader Kyle Chapman is putting his name forward for the Christchurch mayoralty.
The group is also dropping fliers in different parts of the country, to promote its anti-immigration policy.
Mr Chapman says people in the lower North Island have shown particular interest.
And despite outraging some people with his white pride protests, he insists his views on immigration aren't racist.
"We're often drawing these people out of countries that desperately need them.
"So instead of being insulted at me maybe you should have more concerns about his own country and go back and fix it."