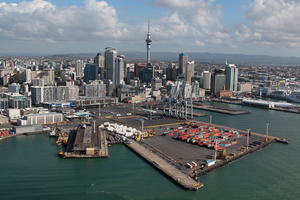 Like a disc stuck on replay, Auckland's port company is at it again, seeking to advance its plan to reclaim more of the Waitemata Harbour for its operations.
Last year, it failed to get a massive expansion written into the Auckland Council's 30-year plan. Now, it is back, wanting a more modest but nonetheless unacceptable proposal to extend Bledisloe Wharf to be rushed into the council's Unitary Plan.
Alarmingly, it had appeared to be on the verge of achieving this until yesterday, when Auckland Mayor Len Brown announced a delay until further study has been done.
Councillors had been briefed behind closed doors and primed to adopt Ports of Auckland's preferred option of extending the wharf up to 179m into the harbour. If that had been confirmed, it would have been without the councillors having viewed a completed study of the port plans, including the economic, social, transport and cultural ramifications. Now at least that work can go ahead.
If the council had bowed to the port company's latest attempt to achieve a fait accompli, it would have ignored most Aucklanders' wish to retain their wide harbour.
Last night, Mr Brown quite rightly said the city needed to have a conversation about the future of Auckland's main port based on proper analysis.
There was no need to rush any of this. The council has sent the right message to the port company by announcing a delay.