Labour Party would be loser if Otara local body gets its way on site control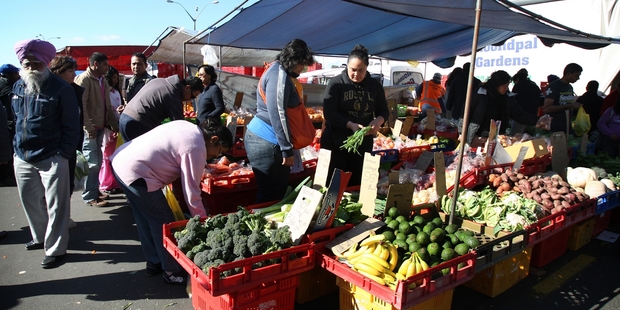 Otara's iconic Polynesian-flavoured Saturday market may be put out for public tender next year in a bid to stop the profits flowing out of the local community.
The Otara-Papatoetoe Local Board has asked Auckland Transport, as the landlord of the carpark where the market is held, not to renew the current operators' lease when it expires next June.
"The lease will be up for groups to tender," said board chairman John McCracken.
The move would be a severe blow to the two groups that have run the market since it started in 1975 - the Labour Party and an incorporated society, Te Puke O Tara.
But Auckland Transport spokesman Mark Hannan said the agency had not yet decided whether to hold a tender.
Mr McCracken's push for one comes ahead of October's local body elections in which his team faces a challenge from a Labour-endorsed ticket led by Manukau East MP Ross Robertson.
A Labour ticket member, Mary Gush, earns about $40,000 a year as Te Puke O Tara manager. She said she suffered a mental breakdown when Mr McCracken's board terminated the society's contract to manage the community centre last year, after a public meeting passed a vote of no confidence in the society's management committee.
Mr McCracken said:
"Those two organisations, the Labour Party and Te Puke O Tara, are totally entwined. We just see that so much money has been sucked out of that community with promises that it will come back for various causes. We just haven't seen it."
Another local board member who has joined Mr McCracken's ticket, Otara health worker Poutoa Papali'i, said he hoped other groups such as the Otara Network Action Committee would bid for the market licence.
"The whole idea of tendering is to ensure a bit of accountability back to the community," he said.
Mrs Gush and her husband, Dennis Gush, who chairs the Labour Party's Otara branch, said both Labour and Te Puke O Tara had stopped making community grants at present because of declining market revenue and higher costs, including $130,000 to get a resource consent for the market in 2010 and $35,000 a year on new premises since the society lost the community centre.
Market revenue has dropped since the last audited accounts in 2011 because of competition from other markets, including the Mangere market where revenue has risen 28 per cent since 2008.
Te Puke O Tara's donations and programmes dropped from $11,742 in 2008 to $2429 in 2011. They recovered to $12,968 in the latest year but were still far below the Mangere market's donations of $151,822.
Mr Gush said Labour normally donated 20 per cent of its half of the market proceeds to the community and 80 per cent to Labour campaigns.
Auckland Mayor Len Brown received fleamarket funding for his first tilt at the Manukau mayoralty in 2004 but Mr Gush said the market did not contribute to his 2010 Auckland campaign and had not been asked to contribute this year.
Otara fishmonger Bruce George, who now chairs Te Puke O Tara, and former Manukau City councillor Mrs Tupou Manapori are standing for the local board's three-seat Otara subdivision to defend the society's role in the market.
Mrs Gush is also standing as one of three Labour candidates, with youth worker Efeso Collins and De La Salle College teacher Lotu Fuli.
Standing with Mr Papali'i against them are police Pacific co-ordinator and Otara Scorpions rugby league chairman Willie Maea and Chapel Downs Primary School teacher Jenn Jefferson.