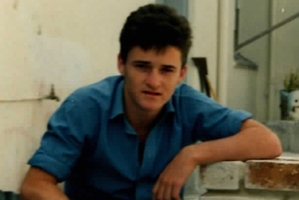 The sound of clinking glass bottles announced the late arrival of another mourner.
He moved up the aisles with a loaf of bread under one arm and a bag filled with flowers and miscellaneous items in his other hand.
The cavernous nave of St Matthew's in the City was filled with mourners from a tapestry of walks of life at today's funeral of Edwin Linder.
The 42-year-old, of no fixed abode, was found with severe head injuries in Mills Lane in central Auckland last Wednesday. He died in hospital on Saturday.
"Welcome to St Matthew's," came Reverend Wilf Holt's warm welcome.
"A place for all people from all faiths ... a place for people for those with no faith."
The pews were filled with Edwin's brethren from the streets of Auckland, family members, support workers and a police officer.
"We've come together before God to remember," Reverend Holt said.
Edwin's friends from the homeless community stood at the back of the church, some with heads bowed, others dressed for the occasion with an ill-fitting suit jacket or mismatched shirt and tie.
"Edwin's life was cut short in an awful way," Reverend Holt said.
Edwin's mother's introduction was met with hellos and kia oras from members of the congregation.
"When I woke up this morning I didn't want to get out of bed. I didn't want to get up and face every mother's worst nightmare."
Edwin was different, even as a child, she said. "He always marched to the beat of his own drum.
"He lived his life the way he wanted to and we just had to accept that."
Her eulogy was followed by the latecomer with his loaf of bread and bag of flowers.
"You were a street poet," he said to the congregation, recollecting their time on the street together.
"Nobody should ever have attacked you," he said, before placing a cup of flowers - gathered from his travels - on top of Edwin's coffin.
A businessman called Mike then took his turn to pay his respects. He said he had known Edwin for three years.
"He used to park himself outside my business on 87 Queen St. He was a bloody good guy.
"Whether I gave him $1 or $30 his reaction was always the same; 'Yeea!'."
Mike said one day after giving Edwin a $20 or $50 note, he cautioned Edwin not to spend the money on booze, drugs, or women.
Edwin's reply was he would then spend the money on a rope to hang himself with. "Because without booze, drugs or women - what's the point."
A rousing rendition of Ka Mate marked the end of the ceremony as Edwin's family carried a simple pine casket out into the waiting hearse.
Mourners each took their turn to say goodbye, placing daffodils onto the coffin.
"Kia ora cuz, see ya later."