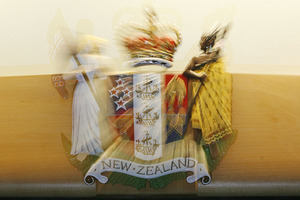 A drugged driver who hit a 10-year-old schoolboy during a cycle safety lesson and broke his leg has been convicted today and ordered by a judge to buy the boy a new bike.
Christine Ann Green, 48, struck Ford Fribbens outside his Christchurch school after swerving suddenly while driving with tetrahydrocannabinol - the active ingredient in cannabis - and sleeping pills in her system.
A group of classmates from Halswell School watched in horror, as the youngster was hit from behind on May 22 as he stood astride his bike at the road's edge.
Today, Green, a cleaner from Riccarton, appeared at the Christchurch District Court to plead guilty to a charge of driving and causing an injury while her blood contained a controlled drug.
Police prosecutor Sergeant Paul Scott said Green failed a compulsory impairment test after the incident and she gave no explanation to police for causing the smash.
Today, a duty solicitor acting for Green argued that since she had smoked cannabis three days before the crash, medication for depression and a sleeping pill the night before were more likely to blame for the collision. She was "very remorseful and upset", the lawyer said.
A victim impact statement by the boy's mother said the accident had a "significant" emotional and physical impact on the boy, but there appeared to be no long-lasting effects.
Judge Phillip Moran told Green in the dock: "You must be absolutely mortified by what you did and the consequences of it. To this day you probably don't know what caused you to swerve into this kid."
She shook her head.
The judge stressed that just because there were drugs in her system, it didn't necessarily mean it was the reason for her actions.
He also applauded her for pleading guilty, saying it "takes courage" to take responsibility for actions.
Green was ordered to pay $580 in reparation for the youngster to buy a new bike, along with $500 to his mother for emotional harm, at a rate of $40 per week. She was also sentenced to carry out 120 hours of community work.
- APNZ