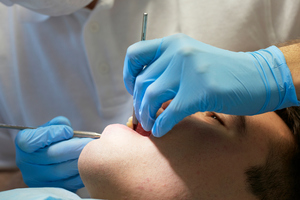 An Auckland dentist who extracted almost $50,000 of taxpayer money for made-up appointments has had his licence suspended for 12 months.
Sanjay Govind Sathe, 60, appeared before the Health Practitioners Disciplinary Tribunal today to face a charge laid by the Dental Council's professional conduct committee (PCC) that his convictions reflected adversely on his fitness to practise.
The Hillcrest resident was sentenced to eight months on home detention after pleading guilty to 18 criminal charges in the Manukau District Court last year.
Sathe had been contracted to the Counties Manukau District Health Board to provide after-hours emergency treatment for children and teenagers.
A Ministry of Health investigation found 172 claims over four years for emergency treatment that did not occur.
Court documents show Sathe fraudulently obtained $49,274, which he has repaid. He paid a further $45,000 in civil liabilities which included a contribution to the cost of the investigation.
Counsel for the PCC, Anita Miller, told today's hearing in Parnell that Sathe's offending was not a victimless crime and both his clients and the dental profession had suffered as a result.
"This is a four-and-a-half year systematic pattern of offending [and] a gross breach of trust."
Harry Waalkens QC, representing Sathe, said his client did not deserve the "harsh and unreasonable" penalty of licence cancellation, but the lesser punishment of suspension.
Sathe was a first-time offender, showed genuine remorse, and a psychological assessment found there was an "extremely remote" chance of him reoffending.
"This was a substantial fall from grace for ... a man who was a respected member of the dental profession," Mr Waalkens said.
The tribunal suspended Sathe's registration for 12 months from today and imposed several conditions for the two years after the suspension ends.
Sathe would not be able to own his own practice or make financial transactions, and would have to take a Dental Council course in law and ethics.
He would not be able to practise without the presence of a Dental Council-approved supervisor at all times - which he would have to pay for.
- APNZ