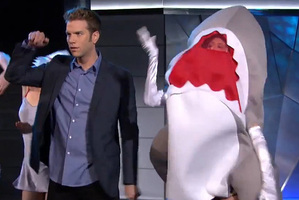 An American comedian who mocked a fatal shark attack off Auckland's west coast has spoken about the fallout from the stunt, including death threats and having his parents' contact details posted online.
An episode of Comedy Central show The Jeselnik Offensive, hosted by Anthony Jeselnik, featured a "shark party" to "give thanks" for the death of Muriwai man Adam Strange.
Appearing on US talkshow Conan yesterday, Jeselnik explained why he performed the skit and the outrage that followed.
"Thirty people die every year from shark attacks but 100 million sharks die from people every year," he told host Conan O'Brien.
"So on my show I thought it would be funny, and it was, if when a guy got killed by a shark, we would do a thing called Shark Party where we would have things like dancers come out."
He said the reaction from Americans was positive, but New Zealanders were "furious".
"There were death threats for me online and then someone posted my mom and dad's address and phone number online, which was really tough.
"So I had to have them change their phone number and I had to call the police department and tell them to watch out for my mom and dad."
In the show, Jeselnik was given a lap-dance by a woman in a full shark costume before a photograph of Mr Strange was displayed on a screen behind him.
The programme ran on United States television shortly after the attack.
Mr Strange was killed as he swam off Muriwai on February 27 this year.
- APNZ