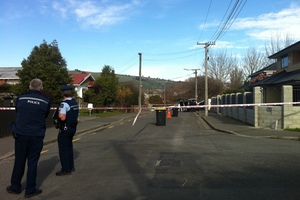 A man's body has been found by a Christchurch river this morning.
A woman walking her 11-year-old brother to school reported seeing the body beside the Heathcote River in Woolston shortly after 9am.
Police are investigating but say it's too early to say whether the death is suspicious.
Cordons are in place at Catherine St, Maronan St, Connal St and on walkways in the vicinity.
The woman, who does not want to be identified, said her brother was walking near the water's edge when he shouted out that he'd seen a body.
The corpse was face down.
The woman who lives less than 100m away called a girlfriend for help and took the boy to school.
The friend arrived, touched the body, found it was "cold" and was sure it was deceased.
Police were called and were on the scene minutes later.
The man was dressed in casual clothes and was less than 500m from where a man was found floating in the river last year.
Forensic police experts in white boilersuits have been scouring the scene, while detectives have been interviewing the people who made the grisly find.
About 12.30pm, a Fire Service appliance with an extendable cherry-picker ladder drove into the police cordon to help police examine the scene from above.
Delwynne Barker, 55, took her 7-year old daughter to school about 8.20am but didn't notice anything amiss.
"We would've walked right past it," she said.
"I went past again on the bus about 9.20am and saw all these cop cars rushing down there.
"It's the second body I've passed without seeing in the last year."
Another resident Daphne Marsh, 80, got a shock when her carer told her of the find.
"I thought I'd come down to see if it was someone I know. There's too much of this going on in this city."
- APNZ