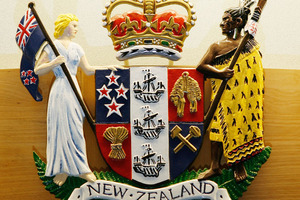 A young mother who wrapped her newborn son in a towel, suffocating him has been sentenced to two years and six months in jail for his manslaughter.
Kulukora Kylie Akau'ola, 24, wept in the dock as her sentence was read out at the High Court in Auckland this morning.
She admitted to police she had concealed the unplanned pregnancy and given birth in secret, before wrapping the baby boy in clothing and hiding him in her wardrobe to cover up his crying. He suffocated shortly after.
She then texted the father, Christian Afoa, and told him the baby had been stillborn. They buried the baby in the backyard when her parents left the house four days later.
The mother-of-two was due to stand trial for murder in May, but pleaded guilty to the lesser charge instead.
Today the High Court heard Akau'ola had expressed remorse at the death of her son and had not intended to kill him.
Justice Edwin Wylie emphasised that the case was not one of infanticide.
He also noted that Akau'ola had been assessed as "emotionally immature" and an "insecure young woman without any direction in life".
Justice Wylie said she was deemed moderately depressed at the time of the baby's death on May 26, 2011, felt under pressure to hide the pregnancy to avoid bringing shame to her family and had been having intermittent suicidal thoughts throughout the pregnancy.
The family had learned of the suicide of a close cousin on the morning of the baby's birth, which prevented Akau'ola from revealing her secret, he said.
"While you did not intend to kill your baby, you acted deliberately to stop the baby crying to cover the fact you gave birth," he said in his sentencing.
"You tied a shirt tightly around his face. It was inevitable your child was going to die."
Akau'ola sat with her head down throughout this morning's proceedings, her red hair hung over her face. Her sobs could be heard from the dock as the judge spoke.
Her mother, father and brother were in the public gallery, and all wiped tears from their eyes as they left the courtroom.
Earlier the court heard she had given birth to the baby on her own in the bath, turning on loud music and the shower to conceal the labour. The newborn boy cried after she tapped him on the back so she wrapped a towel around his head to prevent her family from hearing his cries.
She then went to her bedroom, in the house she shared with her parents, brother and two other children - then aged 1 and 3 - and believing he had already died, wrapped clothing tightly around his head and hid him in her wardrobe, where he died shortly after.
Police received information on June 1, 2011, about the baby's death and Akau'ola admitted the next day that she had given birth, but continued the lie that her son had been stillborn.
Police uncovered the baby boy from the backyard seven days after his birth, and Akau'ola confessed he had been alive when she delivered him.
Officers noted she was ``emotionally guarded'' and ``almost numb'' during questioning, and reluctant to talk about the baby, Justice Wylie said.
Before passing sentence he said: ``It's apparent you are emotionally immature and not adequately equipped to cope with the stresses involved in being a mother.
``I hope programmes will be made available to you to assist in understanding the responsibilities of parenthood and help you cope with its demands, before and after your release, which will enable you to play a proper role in the parenting of your other children.''
Crown counsel Asishna Prasad said Mr Afoa had been left "emotionally scarred'' from the death of his child.
In his victim impact statement he said the loss had "affected my life in ways I don't think I will ever get over''.
Speaking after the sentencing, Detective Inspector Dave Lynch, said Mr Afoa was still "pretty distressed" by his son's death, and described the situation as an "avoidable tragedy".
"With the benefit of hindsight, his family would have been happy to have the opportunity to look after that baby," he said.
"He would be a child of two-years-old now, and in a caring environment."
Mr Lynch said the case had "certainly" affected officers who worked on the case, particularly as many were parents themselves.
He also revealed that the tip-off that led police to the Akau'ola's house, was provided by a confidante of Mr Afoa's.
"I think that Christian felt a lot of remorse for what had happened and ended up telling another person, and that person rang us immediately," he said.
"He was unaware that [the baby was not stillborn] until the police investigation. He still believed the baby was stillborn."
Mr Lynch said expectant mothers in a similar situation to Akau'ola should seek help from the various support services which are available.
- APNZ