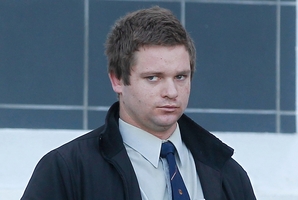 A man charged with causing the death of a cyclist and injuring two of his riding buddies near Hamilton last month will plead guilty to the charges, a court has heard.
Nicholas James Dryland yesterday appeared before a registrar at the Hamilton District Court where his lawyer indicated he would plead guilty to a charge of aggravated careless use of a motor vehicle by illegally overtaking, causing the death of cyclist Craig Goulsbro on July 1.
The 22-year-old, whose Gordonton home is less than 1km from the crash scene on Puketaha Rd, is also facing two charges of careless driving causing injury to Mr Goulsbro's riding mates William Donaldson and Christopher Smith.
Mr Goulsbro, a 49-year-old father of one, died two days after the car Dryland was driving collided with a group of 14 cyclists on a 46km ride that coincided with the second anniversary of the opening of their friend's cycle store.
Mr Goulsbro's wife, Sharleen, told the Herald Dryland had not made contact since the accident, nor did she have any idea who he was.
Mrs Goulsbro said she had been preparing a victim impact statement but was unlikely to attend any court proceedings, although Dryland's likely guilty pleas will save her a prolonged court trial process.
"It's the same with my son, he doesn't want a bar of it," she said.
"All I wanted to know was if his licence had been taken off him.
"As far as I'm concerned it should have been."
Mrs Goulsbro said she was still struggling with the loss of her husband but was back at her job with Fonterra working part-time.
She will be leading a ride from Horsham Downs on August 31 in memory of her husband. She said cyclists from Hamilton, Morrinsville and Te Awamutu would take part.
Mr Goulsbro's friend Bob Puru, the owner of the cycle store, said he was pleased Dryland had indicated a guilty plea to each of the charges.
"It's good that he's come to that decision because it's the right one as far as I'm concerned, not that it makes much difference to the outcome, but it's good for Craig's family and friends," he said.
Dryland was remanded without entering a plea and will reappear before a judge on August 22 at the Hamilton District Court where a sentencing date will be set.
He would not answer questions as he left the court accompanied by a woman understood to be his mother, but his lawyer Thomas Sutcliffe told reporters his client was sorry for what had happened.
Each of the charges Dryland faces carries a maximum penalty of three years in prison or a $10,000 fine.