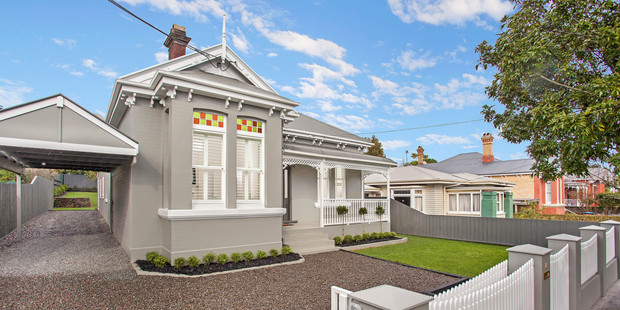 Sarah and Martin Gaskell never planned to renovate and sell, but the couple became so addicted to the process they're doing it again.
It helped that their five-bedroom former "do-up" in Mt Eden fetched $1.9 million in the Bayleys auction rooms this week.
The couple bought 4 Marlborough St 18 months ago for $1.05 million. That's a difference of $850,000.
But Mrs Gaskell said they spent about $500,000 bringing the 1910s villa up to scratch, so their profit was around $350,000.
It was an 80 per cent rise in value, and 59 per cent above the valuation of $1.19 million.
The couple, who work as accountants, added about 40sq m to the now-275sq m home, which is on a 690sq m section.
They installed a new kitchen and bathroom, and added an ensuite and a walk-in wardrobe.
"We really modernised everything," Ms Gaskell said.
"We did all the landscaping. It was quite overgrown with trees ... re-painted, re-roofed pretty much the whole house, we re-wired, insulated, and put in new flooring.
"We didn't expect it to go for that much ... we are really really rapt with the results."
The couple, who have two children, Tom, 2, and Max, six months, are now searching for another do-up which they plan on keeping.
Meanwhile, a three-bedroom home at 4 Vinter Terrace in Mt Albert sold for $810,000, 88 per cent above its valuation of $430,000.
There were 120 groups through the Bayleys open homes with twopre-auction offers after the first weekend.
Bayleys inner-west regional residential manager Simon Short said the two homes went for well above the price the vendors expected, and reflected a strong demand for homes at a time of the year when listing numbers were usually at their lowest.