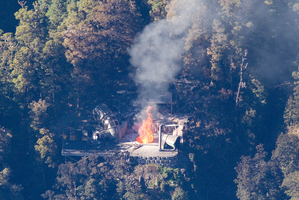 The Pike River Mine will be pumped full of nitrogen to force out any methane gas and allow miners to walk up to the rockfall, under a new re-entry plan.
The plan is expected shortly to go to the Solid Energy board and the labour inspectors for sign off, before going finally to Cabinet.
The families hope Prime Minister John Key will make up to $10 million of funds available.
Spokesman Bernie Monk said today the first job would be to seal the top of the ventilation shaft, a job that would involve a number of helicopter trips. They would then push nitrogen up the portal, which would force the methane out (as methane rises) through a tap.
Rather than a slow staged re-entry, that would allow miners to walk up the tunnel, possibly without breathing apparatus at times.
Mr Monk said about 800m of the main tunnel (drift) had not been seen since the day of the explosion on November 19, 2010.
Footage from robots allowed rescuers to see up to 1.4km, with a rockfall about 2km inside. The remains of the 29 killed in the explosion are thought to lie on the other side of the rockfall, brought down by a second explosion. Cameras have previously been lowered down to look at the fall.
That leaves an 800m blind spot. For now, the talk is only about getting to the fall.
"We are not asking the impossible," Mr Monk said. "We only want one shot."
After almost three years of delays, he said the turning point came after Christmas when the families brought their own experts to Christchurch to argue that a re-entry was achievable, he said.
West Coast-Tasman MP Damien O'Connor said all indications were the plan should get the go-ahead.
"The plan should get approval by the Solid Energy board this month. The National Government should then proceed quickly."
Mines Rescue could not be reached for comment.
- The Greymouth Star