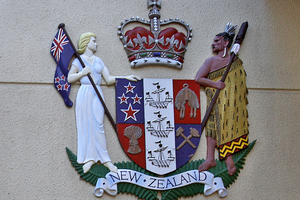 A woman has told a court of the horror of discovering that the elderly man all the local children called 'granddad' was a convicted child molester and that her daughter was his latest victim.
'Granddad' was exposed as 73-year-old Greymouth man John Andrew Dunn.
He was sentenced yesterday in Greymouth District Court to 15 months in jail.
His lawyer Rob Ord requested home detention, saying Dunn was not seeking name suppression.
"He will truly be named and shamed. In a small community like this everyone will know what he has done," Mr Ord said.
At the mention of home detention, the victim's mother shouted from the public gallery: "What's going to stop children going to his door?"
Dunn, who had similar convictions from 1999, admitted three charges of indecent assault arising from an incident in December 2011.
The girl's mother read a victim impact report to the court, saying that she had been racked (EDS: CRRCT) with guilt since the incident because she believed she should have recognised Dunn as an offender instead of regarding him as an unofficial "granddad".
The incident was not reported for some time but, after the offending, the girl did not want to walk past Dunn's house.
The mother blamed herself for not recognising the signs and blamed the state for enabling a convicted child molester to live in the community incognito.
"I thought it was an ideal place to bring up kids," she said. " ... all the kids called him granddad, but it was not a safe place. My ability to protect my children was taken away from me. I am angry that he had done it before, but nobody (here) knew."
Demanding a prison sentence, the mother said: "I feel it's my duty, not only to my daughter but all other children in the community".
Judge Raoul Neave said the girl had emerged from the incident better off than her mother.
"She (the mother) is carrying a load of guilt, which she does not deserve."
In a letter to the court, Dunn said he accepted his guilt with "deep hurt and sadness" and had lost his family, who wanted nothing more to do with him.
Judge Neave said Dunn had shown little remorse, or understanding of the effects of his offending and the late remorse shown in the court this week was "too little, too late" to earn a home detention sentence.
"I am not satisfied that it is genuine," Judge Neave said.