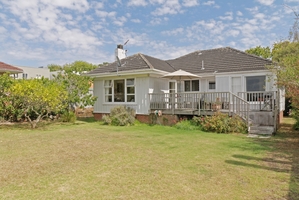 It's advertised as the worst house on the best street - but in a skyrocketing Auckland market and with John Key as a neighbour, a house in Parnell is expected to sell for millions.
The brick and weatherboard home on St Stephens Ave could be one of the most expensive properties sold - and the house is expected to be bowled.
It has orange 1970s-style wallpaper, all its original fixtures, and a floor area of just 167sq m. The house, built in 1963 and not having undergone any major renovations since then, sits on a 750sq m section. But it's just five houses from the Prime Minister's sprawling multimillion-dollar mansion and has wide views over the harbour.
Ray White real estate agent Grant Dickson said the owners, who live overseas, bought the property last year for $3.3 million, when the title was a 902sq m section, and rented it out. The couple subdivided the land and are building a home for themselves on part of the section.
The full section had a valuation of $2.8 million - set two years ago before the market started to rise - boosted by its central location and views.
The median house price in Auckland City is $650,000 and a three-bedroom home near the property sold for $4.5 million in March.
"It's all in the land," Mr Dickson said. "The house isn't worth that much.
"It's exactly what it was like in the '70s. It's never been improved. There's one bathroom ... even down to the retro coloured glass inside. It's not a property that you could probably do up. You'd need to pull it down, start again."
Mr Dickson said he expected a family or retirees to snap up the property and build a home for themselves which could be worth upwards of $6 million.
Real Estate Institute chief executive Helen O'Sullivan said a range of possible buyers could be interested.
"It could be somebody who wants to build something fab for themselves but it could also be someone with an eye for development potential. It is a desirable part of town."
She suspected the property would sell for more than its CV.
"The building isn't making the most of the property. It looks pretty original ... that kitchen was probably very modern in its time. I will watch that one with interest ... it's quite a spot. you look at the neighbouring houses and it's very much the poor relation."