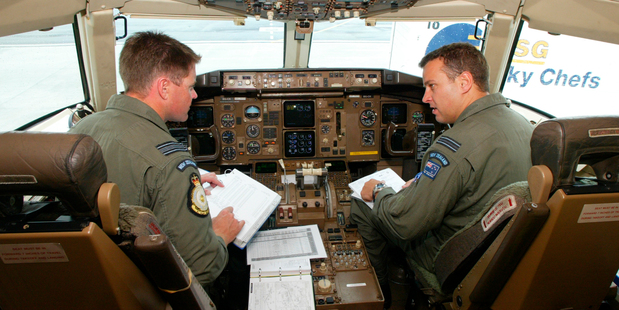 The air force has contingency plans to ask former pilots to prepare for a return to service as an aggressive Air New Zealand recruiting campaign has left it monitoring its ability to keep planes in the air.
The Herald has learned the lure of flying for the national airline has become so attractive that concerns have even been raised with senior officers at headquarters.
It comes after Air New Zealand asked the Government to include the job of "pilot" to the list of those categorised as a skill shortage. The listing speeds the path of pilots through immigration.
A spokesman for the Royal New Zealand Air Force said it was aware of Air New Zealand's interest in its pilots, had lost some and accepted more might yet choose to go.
He said the RNZAF's pilots were "skilled and sought after" but any loss of experience was managed in the broad pool which existed.
"We are watching the situation very carefully and considering a variety of possible responses depending on how the situation develops.
Our focus continues to be on ensuring safe and effective air operations at all times.
"The RNZAF has sufficient pilots to conduct required levels of tasking. We are monitoring the situation closely to ensure that we continue to deliver required outputs safely and effectively at all times."
The spokesman said the air force worked with staff around the timing of departure "to ensure that we are not left in a difficult position". He said recruiting and training was also adjusted.
If a greater number of pilots left, then the air force would consider poaching pilots from other militaries and asking ex-RNZAF pilots to return.
A spokeswoman for Air New Zealand said the airline was one of a number where RNZAF pilots went to work. She said there was no "RNZAF recruitment strategy" and the air force was kept briefed on when it was hiring pilots "in case it experiences periods where it needs to temporarily bolster flight crew numbers".
"On these occasions our pilots are given leave without pay to undertake flying duties for the RNZAF which pays their wages."
The links between the air force and the national carrier went deeper with Air New Zealand subsidiary Air Nelson hosting military pilots to boost their hours.
She said the hosting saw military pilots flying Air New Zealand planes with the air force paying their wages. "They have the opportunity to build up more flying hours than they would in the force."
Air New Zealand has 25 aircraft on order and arriving in the next five years, although many replace planes being phased out. One former air force leader estimated 18 pilots would be needed for each plane.
Former Commander of the Air Force Sir Bruce Ferguson said Air New Zealand had a recurring impact on RNZAF numbers. "There is pressure." He said pilots were pledged to 10 years of service before they could leave.
He said Air New Zealand was aware of the pressure it placed on the air force but it made commercial sense to hire well-trained pilots who had good experience.