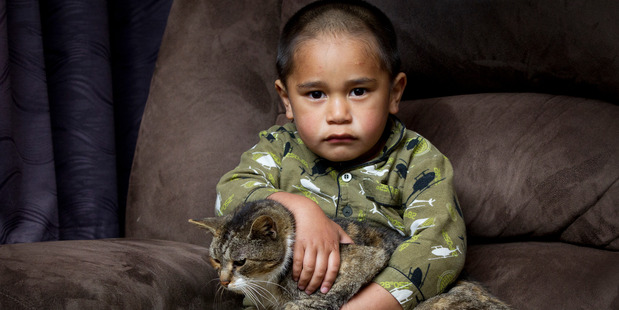 A 3-year-old Auckland boy sparked an emergency response when he became wedged under the wheel of a car after chasing his neighbour's cat yesterday.
Manurewa toddler Paul Hunter was chasing his neighbour's tabby cat, Smudge, about 5.15pm when the cat ran under her owner Ian Reid's car which was parked in his Arnwood St driveway.
"Earlier in the day, about half an hour before everything happened, his older sister had brought him back with the cat in his hand," said Paul's mother Ngaio Hunter.
"The cat jumped out and ran off so he climbed the fence and chased it."
He ran from his Burwood Ave home, around the corner and about 200m down the street to the Reid's house.
Mr Reid said he heard Paul's "hysterical" cries and found him wedged, head-first, behind the front wheel of his Nissan Bluebird parked in the driveway.
"The poor little chap, he had just gone under the car to get the cat but he went head first and got stuck.
"He was blimmin' hysterical, who wouldn't be at his age though, he had nowhere else to go - he couldn't move forward, he couldn't move backwards.
"The cat was sitting there looking at him from the outside."
A worried neighbour heard Paul's cries and phoned emergency services.
"The neighbour panicked thinking that the car might drive off," said a police spokesman.
Police, two fire appliances and a St John ambulance paramedic team were dispatched to the incident.
Mrs Hunter said it was "darn well scary" seeing her son stuck and crying behind the wheel.
"It was full on," she said.
Mr Reid's wife Ata helped Mrs Hunter comfort the child, while her husband jacked up the car.
"I must have jacked it probably about an inch, and that was enough for his mum to get him out of there," he said.
"He jacked it up and put a box under it just in case it fell down, and I just got him to shimmy backwards from the wheel."
By the time emergency services arrived, Paul was out from the car and completely uninjured.
"It seemed like forever but it only lasted about five minutes," said Mr Reid.