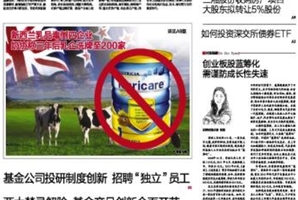 Daily newspapers in China have held nothing back in dealing to New Zealand over Fonterra's tainted milk powder crisis.
The product recall in the dairy giant's biggest and most valuable market has been given front-page treatment, with some papers using graphic imagery, including enlarged colour pictures of bacteria alongside the New Zealand flag.
The Xiamen-based Haixi Chenbao included the grim reaper lurking behind a tin of formula, with the headline "Imported milk taken off shelves".
Nanfang Ribao's front page, showing milk pouring into a cup, said "Dumex has 420 tonnes of tainted milk powder on the market". Dumex is a Chinese subsidiary of the French firm Danone and makes infant formula. It used the potentially contaminated ingredient WPC80.
The newspaper Zhengquan Sibao ran a headline "NZ dairy products poisons four companies". Jiangjiang Evening News illustrated its front page with bacteria seen through a magnifying glass and powdered milk being poured into a container.