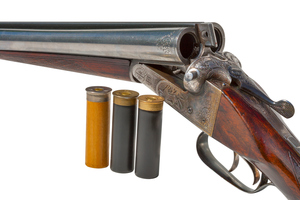 A man brandished a sawn-off shotgun as he chased his neighbour at Ngahere in a family feud, a Greymouth District Court jury heard yesterday.
However, the jury was dismissed early in the trial, when the main prosecution witness refused to give evidence.
Phillip Mark Secker, 27, now of Nelson, was charged with assaulting Jaydon Galland, threatening to kill him and possessing an offensive weapon at Ngahere on November 26, 2011.
Crown prosecutor Marcus Zintl said in his opening address the charges were the result of a feud between the Secker and Galland families.
Preceding the events of November 26, Galland had sprayed graffiti on the fence of a friend of the Seckers and used threatening language to Secker's mother, the court heard.
A witness, aged 16, told the court that he had noticed Secker standing outside the Galland house. When he asked what he was doing, Secker pulled the sawn-off shotgun from down his trousers and said he was going to "get" Galland.
A little later he heard shouting and, when he looked outside, saw Secker chasing Galland down the road.
Galland said in a statement to police that he had noticed Secker standing outside his house holding an object. When he ran toward him, Galland turned and fled, hiding in bush by the river while Secker yelled: "Come out and face your dues."
The first witness was sure he had seen a gun, even though Galland thought that Secker had a fence post in his hands, having posted on Facebook later that night: "He (Secker) didn't shoot me. He just chased me with a fence post or something. He's still a dead nigger walking."
Galland also alleged that Secker had earlier that day punched him twice and threatened to kill him with a rock.
However, in court yesterday he refused under the threat of being ruled in contempt of court, to take the oath or give evidence.
A subsequent meeting between Mr Zintl and defence lawyer Richard Bodle resulted in the Crown withdrawing the charges of assault and threatening to kill, and Secker pleading guilty to possessing an offensive weapon.
Secker was then sentenced to 200 hours' community work.
Judge Raoul Neave said attempts by people to exact private justice or vengeance could not be tolerated. Had he not cleaned up his act over the past couple of years Secker would have got home detention.
"A good deal of this was bluff and bluster, but how far you would have pursued the matter remains an open question," the judge said.
- The Greymouth Star