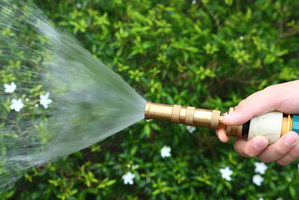 Westland's sleepy Okarito was roused last night with the first big fire in the area since the Forks Hotel burned to the ground about 30 years ago.
Brian and Raewyn McLennan, who owned the bach in Russell Street were first on the scene about 7pm. They turned garden hoses on the flames to contain the fire until the fire brigades arrived from Whataroa and Franz Josef Glacier, both about half an hour away.
"The whole community has rallied, and the young couple who were renting the property have lost everything," Mrs McLennan said.
"We moved cars from the driveway and two other locals took over the hosing."
Although the house was gutted, she praised the volunteer firefighters, who did well to prevent it from spreading.
"They did all they could; they stopped other properties from burning down and no lives were lost. What more could we want?"
Whataroa chief fire officer Ian Philps said the house had just erupted in flames when they arrived on the scene.
"Locals were using garden hoses to contain it, which we believe started as a chimney fire and then got out of control.
"We were first on the scene, and the Franz brigade arrived just before we ran out of water and they took over," Mr Philps said.
Mr McLennan said it was a typical "Kiwi bach" and was formerly part of the original Green family home at Franz Josef, later moved to Okarito.
Parts of the bach were about 100-years-old, and it was "beyond repair".
Another Okarito resident, Debbie James, said a young couple had been living in the bach for a couple of years.
"The man was away at West Coast rugby training at the time of the fire. His partner, who has a business locally, and their dog, got out safely."
Mrs James was also impressed how the community united to help the couple with their loss.
"There's been great support for the couple, and the fire brigades did well."
- The Greymouth Star