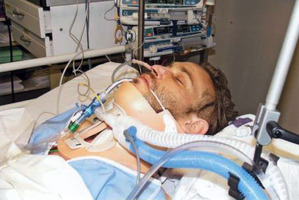 The Independent Police Conduct Authority will formally apologise to a Whangarei family after releasing a report with incorrect information relating to drugs found in a car.
The authority yesterday admitted making a mistake in a report on Whangarei man Shane Legg who was paralysed while in police custody.
In the executive summary of the 63-page report it stated police found 34 grams of methamphetamine in a car driven by Shane Legg when in fact it should have read 34 milligrams.
A spokesperson said the authority was working to rectify the mistake by correcting the report on its website and a letter of apology would be sent to the Legg family.
The authority was made aware of the mistake yesterday after Ray Legg, Shane's father, met senior Whangarei police.
The IPCA investigation concluded that, while police actions were reasonable and complied with the law in most respects, one officer failed to fulfil his duty of care to Mr Legg.
The report also revealed Mr Legg had methamphetamine in his blood at the time.
Shane Legg was clocked doing 136km/h by police when he took off, abandoned his car and ran up a steep, wooded hill about 9pm on April 24 last year. An officer and dog handler arrested him at the top of the hill. Mr Legg, handcuffed with hands behind his back, was escorted to the bottom of the hill where he was told to climb over a metre-high fence.
In his attempt to climb it, Mr Legg fell and immediately cried out in pain. He was moved 30m-40m by two other officers and after complaining of a burning sensation in his back was laid on the ground while police called for an ambulance. Shane Legg said he was pushed over the fence.
Ray Legg said by releasing the incorrect amount of methamphetamine found in the car it painted his son in a far worse light and discredited the information in the report.
"Everyone reading these media reports or seeing it on television will get the wrong impression. This is supposed to be a summary of honesty and it's supposed to be prove read before being released.
"My son is no angel but the police need to get the crucial facts right."
For more articles from this region, go to Northern Advocate