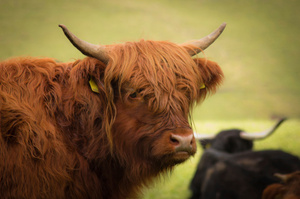 Serial animal killers have slaughtered more than 130 animals worth tens of thousands of dollars in rural Western Bay.
The latest animal to fall victim in the campaign of violence spanning more than a decade in Whakamarama is a highland bull bashed with a sledge hammer.
Whakamarama farmer Barry Skokandich told the Bay of Plenty Times he was checking on his herd of Highland cows about two weeks ago when he came across the dead body of Napoleon, one of his two breeding bulls.
A vet who examined the half-tonne animal found it had been struck on the head with a large hammer-type weapon. The stunned animal rolled on to its back after receiving the blow, got a horn stuck in the fence, could not get up and choked to death.
"His sister (Napoleon's) was killed a month back and his mum was killed a month before that and she was pregnant," he said. "It's pretty horrific. They are tame animals."
In total, 22 calves, seven pregnant cows and two bulls belonging to Mr Skokandich had been killed since 2007.
He estimated the lost animals would be worth at least $40,000.
Neighbour Alexander Samoylov said he was also targeted between about 2000 and 2007 with more than 100 turkeys and two breeding dogs vanishing while he was away from home.
Mr Samoylov said he had heard gunshots near his house and found evidence suggesting someone was hunting wild deer that wandered onto his property.
Another neighbour, who spoke last night on condition they were not named, said he had also lost stock, he said.
Mr Skokandich went to the police after the latest killing but was told there was nothing that could be done unless he could get photos of the killers in action. Surveillance cameras were not an option because each of the killings took place on a different part of his 12ha property.
Mr Skokandich now fears his last bull, which has fathered most of his stock, will be targeted next.
"To me he's probably worth about $50,000 to $100,000. If he's killed, it's over."
Tauranga police acting Senior Sergeant Cam Anderson confirmed Mr Skokandich had laid a complaint about the killings with police in late July.
Tauranga SPCA inspector Jason Blair said he had been informed of the issue but there was nothing he could do if the police investigation had led nowhere. The SPCA could only get involved if there was proof the animals were killed in an inhumane way, he said.
For more articles from this region, go to Bay of Plenty Times