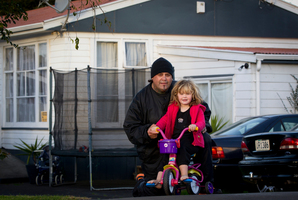 Single dad Tommy Sutton has looked at about 10 rental properties in two weeks in South Auckland but all have been out of his price range.
The 50-year-old wants a two-bedroom home for himself and 3-year-old daughter Chanelle as his current house is infested with roaches and "needs a lot of work".
But it's going to cost up to $500, which he cannot afford. The beneficiary is currently paying about $320 for his two-bedroom home in Mt Wellington.
He has been looking in the same area and further out in Manukau but is struggling to find anything suitable.
"It's not that there is a shortage of places, it's the price," Mr Sutton said. "Times are a little bit tough at the moment ... I just want somewhere that's a reasonable size with a reasonable kitchen."
2 bedrooms at $1673 a month
Elise Wilson and Edward Waaka live in a tiny terraced home in Mt Albert - but they've been slapped with an extra $858 a year in rent.
They were told by their property management company the increase is to cope with rate rises.
Their two-bedroom home with one bathroom costs $1673 a month, up from $1607. "I just think it's a lot for what the house is," Miss Wilson, 24, said.
"We have a small garden and our second bedroom is so small you could probably only fit a single bed in there," she said. "And we only have one off-street park which is shared with our neighbours."