More than 40 per cent of 1400 workers who have worked on the site live within a 10km radius.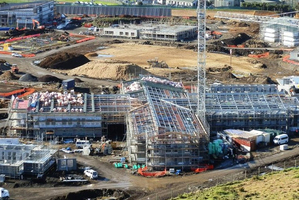 Manurewa politicians have dropped their campaign against the new Wiri prison and are now trying to get as many jobs out of it as possible for unemployed South Aucklanders.
The construction of the new $270 million jail is now well under way, with 300 to 350 people working daily on the site which is next to the existing women's prison west of Roscommon Rd.
The consortium that is building the prison and will operate it until 2040, which includes Serco, Fletchers and the Accident Compensation Corporation (ACC), says 42 per cent of the 1400 contractors and workers who have been inducted on to the site so far live within a 10km radius, covering most of South Auckland from Otahuhu to Papakura.
Manurewa Local Board chairwoman Angela Dalton and deputy chairman Michael Bailey said yesterday that they opposed building the prison in the area, but now that it was under way they wanted to maximise the gains for local workers and businesses.
"We are working with the Wiri Business Improvement District to get local businesses ready and resilient in order to contract and subcontract the work opportunities emerging from the prison," Ms Dalton said.
Mr Bailey said: "We need to be wholly focused on increasing the wealth and financial resilience of local businesses and local workers."
Auckland had an unemployment rate of 7.3 per cent in the last survey in March, or 56,700 people, above the national average of 6.2 per cent. June survey results are due today.
Fletcher Construction regional manager Richard Coupe told a Wiri business breakfast last month that subcontracts worth $35.7 million had been let so far to firms within the 10km radius.
Serco Australasian operations director Scott McNairn said the consortium planned "engagement with the mana whenua iwi to develop a recruitment campaign targeted to Maori", and had started talking to the Ministry of Business, Innovation and Employment "to target the long-term unemployed in South Auckland".
He said the consortium hoped to recruit about 100 experienced prison guards and about 50 new recruits who would be trained from February 2015, as well as about 110 administrative staff and specialists such as doctors and nurses.
Advertising for the prison director starts this week in New Zealand, Australia and Britain.
However, Karen Wilson of Te Akitai Waiohua, who co-chairs the project's Tangata Whenua Committee, said there had been no detailed discussion yet about a campaign to recruit Maori workers.
"We know it [the prison] is going to be there whether we like it or not, so it's a matter of what are the best outcomes for specifically Maori, whether as clients or as part of the community, and for Manurewa, having a high proportion of Maori."
Prison work
56,700
people unemployed in Auckland in March.
1400
people inducted on to Wiri prison construction site so far, 42 per cent from South Auckland.
300 to 350
on site each day.
800
at construction peak March 2014.
260
operational jobs when prison opens May 2015.