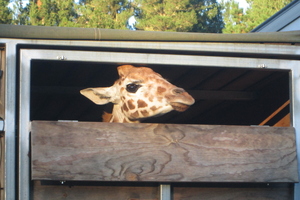 Orana Wildlife Park's new bull giraffe has made his first public appearance today.
The arrival of Fanana signals a new era for Orana Wildlife Park. Last year, Harold, aged 19, died suddenly, leaving the park without a breeding male.
Harold sired nine offspring and left one last legacy in the form of a daughter named Harriet who was born in November 2012.
Fanana, who is 11 months old, was transferred from Taronga Western Plains Zoo in Dubbo, Australia, last month, and has completed his 30-day quarantine period.
Orana Wildlife Park's head keeper of exotic mammals Rob Clifford said Fanana is a very pleasant natured young boy.
"He has adjusted well to our setting and it was great to see him enjoy being outside this morning and meet our four female giraffes for the first time."
Fanana's transfer to Orana was a unique process. He was the first giraffe to fly into the Australasian region since Harold flew to New Zealand in 1994 as giraffe normally travel the whole journey by sea.
Park staff loaded Fanana into his travel crate this morning and transported him through the park by truck to the Giraffe Habitat. He was unloaded at the Giraffe House and has access to a yard alongside the giraffe herd.
"We are thrilled with the process this morning; it all went to plan perfectly. As soon as the crate door opened Fanana calmly walked out into the yard and into view," said Mr Clifford.
"Fanana will be separated from the girls whilst we monitor their interactions before making a decision to introduce them. He has come from a big herd at Taronga Western Plains Zoo so we do not foresee any problems, especially since he is a young bull moving into an all female herd. We will take a cautious approach though to ensure we successfully integrate the animals."
Orana Wildlife Park is involved in the zoo-based breeding programme for giraffe and so far 17 calves have been born at the park.
Fanana is an appropriate match for the younger females who are aged eight months, nine years and 15 years. However, giraffes reach maturity around three to four years of age so it will be some time before any more calves are born.
"We are sure that the flying Fanana will impress visitors who will be able to see him mature over time," Mr Clifford said.
- APNZ