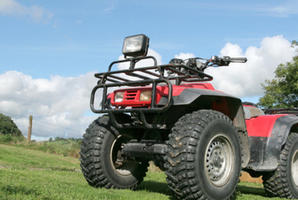 A "stoic old boy" who fell from a stack of hay bales on a remote corner of his Northland farm rode 3km in agonising pain on his quad bike to raise the alarm.
The 60-year-old was stacking hay by himself on a remote corner of his sprawling Maungaturoto farm south of Whangarei yesterday morning when he fell four metres and landed on his neck.
He lay for two hours with his cellphone out of reception coverage before deciding he had to make a move.
"He realised he needed to do something himself to get help, and the best chance of getting out of there was on his quad bike," said Auckland Rescue Helicopter Trust intensive care flight paramedic Russell Clarke.
"He managed to climb onto his quad bike and drove back to his farmhouse, which must have been at least 3kms away."
After the torturous journey, he made it back to the farmhouse where a family member phoned emergency services about midday, who scrambled the Auckland Rescue Helicopter Trust to come to his aid.
Mr Clarke said the man was in remarkably high spirits when they arrived, given that he had some potentially serious injuries.
He was flown to Whangarei Hospital about 12.10pm in a serious but stable condition.
A spokeswoman for Northland District Health Board said the man remains in hospital today in a stable condition.
Mr Clarke said he was lucky to have avoided more serious injuries.
He praised the man's "tough" actions by riding out to raise the alarm.
"He was in quite a bit of pain with us, but it had been some four hours since he had his accident, so the pain was abating a bit," Mr Clarke said.
"He's pretty hardcore farmer - a stoic old boy."
- APNZ