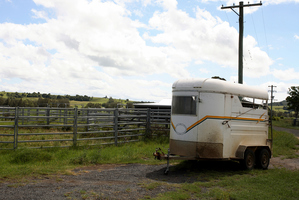 A worker at a top Auckland horse stud sacked after saying he was kicked in the face by a horse has lost a claim of unjustified dismissal.
Todd Hayter was working as a senior stud groom at Westbury Stud in Karaka, South Auckland when he was loading two, frisky young horses onto a transporter with a workmate.
When one horse baulked, co-worker Nathan Wilson struck the animal across the rump with a piece of tree branch.
In the ensuing confusion, Mr Hayter said he was kicked in the face by the startled horse.
He then abused Mr Wilson.
Mr Wilson told an Employment Relations Authority hearing that he was "genuinely frightened" by the June 20, 2012 outburst.
It led to Westbury Stud launching disciplinary proceedings into Mr Hayter's conduct, which included allegations he was using marijuana at work and offering to sell it to co-workers.
Westbury denied that Mr Hayter ever said, during a prolonged disciplinary process, that he had been kicked in the face.
Mr Hayter was eventually sacked before making an unjustified dismissal claim.
He passed a drugs test that his employers asked him to take and also denied threatening the personal safety of Mr Wilson, claiming that he simply abused him in the "spur of the moment".
Mr Hayter - who did not apologise for his outburst - alleged that he should have been given a warning and not dismissed.
But ERA member James Crichton ruled that the horse stud followed all proper processes and were well within its rights to sack him.
In his decision, Mr Crichton found that Mr Hayter was properly advised of the allegations; that Westbury Stud did conduct a proper investigation and properly evaluated the responses it got from Mr Hayter; and that its disciplinary process was appropriate.
"Given the nature of the contractual provisions referring to the particular offending of which Mr Hayter was found guilty, it is apparent to the Authority that it was available to Westbury Stud to make the decision it did to dismiss Mr Hayter from its service."
Costs were reserved.
- APNZ