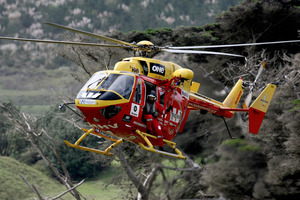 A West Coast rescue chopper pilot is questioning a police decision to use a commercial helicopter to rescue two overdue trampers, one of them seriously injured.
Pilot Angus Taylor said the Greymouth-based NZCC West Coast Rescue Helicopter had been available at the time on Sunday. He was at a loss as to why the "well-equipped" machine was not called out to airlift the trampers from the Top Kokatahi Hut, a 25-minute flight.
The injured pair, a brother and sister, spent five nights huddled in a bivvy in the bush after sliding about 12m down an icy bank. The woman fell first, breaking her pelvis, and a short time later her brother slipped in the same place. He was knocked unconscious and broke his wrist.
A rescue was mounted on Sunday, when their mother reported them overdue.
Mr Taylor said he had no problem with Coastwide Helicopters being used during a search, but he believed the rescue helicopter should have been called once the pair had been found, especially with the extent of their injuries.
"We have all the equipment and have trained paramedics on board."
Instead, the injured pair did not receive any pain relief, other than Panadol, and were flown to Hokitika Airport and then driven to Grey Base Hospital by ambulance; a further 35-minute trip.
"Had the rescue helicopter recovered the pair there would have been staff to assess them properly, they could have been administered pain relief, and had the need arisen they could have been flown directly to Christchurch Hospital," Mr Taylor said.
The woman had since been told she had suffered multiple fractures to her pelvis, which had the potential to be life threatening, Mr Taylor said.
While the rescue helicopter cost more than a commercial machine, almost all of that was covered by ACC.
West Coast police area commander Inspector John Canning defended the choice of helicopter, in the circumstances.
"The commercial helicopter did not initially go in to rescue the pair and only found them as it was leaving the area. Then a snap decision was made to airlift the pair out."
Mr Canning said the weather was closing in and it was doubtful whether the rescue helicopter would even have made it into the mountains because of low cloud at the time.
He said it was not about preferring one machine over the other.
"I have to make a decision economically, as we are spending public money," Mr Canning said. "It was a critical judgment call, they were Johnny on the spot, and at the end of the day the pair survived."
- The Greymouth Star