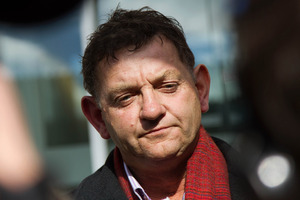 Bryan Guy, father of slain Feilding farmer Scott Guy, is getting behind a Hawke's Bay trust that aims to remember murder and suicide victims.
White Heart Trust was set up three years ago by the family of Napier man Philip Cowan, believed to be the victim of a drug scene killing in 2001, to honour those whose lives have been tragically taken.
"Basically we lost our son to murder in 2001," founder Simon Cowan said. "One of the comments you most probably hear quite a lot is that we don't want other people to go through what we have been through.
"There was nothing to remember victims, often they are forgotten and we don't want them to be forgotten, we want to remember that loss. We want people to be aware so we can make improvements so these events do not happen again."
September 25 is White Heart Remembrance Day, with gatherings to be held in Napier, Auckland and at Midland Park in Wellington, where Mr Guy will speak this year.
"Bryan is a well known father of a victim, so I emailed him and asked if he might consider talking at a White Heart event. He came back very quickly and said 'yes'."
Mr Cowan was hopeful the trust could extend its reach thanks to a new connection with the RSA and links to schools.
"On September 25, we hold our event similar to Anzac Day around the country, we started with one in Napier and now we have three in civic centres.
"This year we formed a relationship with the RSA, they have been in event management for 98 years with Anzac Day, now we are working with them to get more coverage."
Not only does their focus fall on murder victims and their families, but those who have been affected by suicide.
For more information on White Heart, visit whitehearttrust.co.nz or Facebook, using the keywords White Heart Trust.
For more articles from this region, go to Hawkes Bay Today