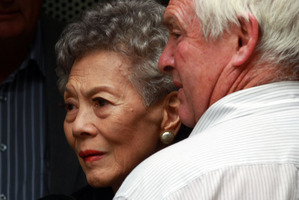 A Hamilton pizza delivery driver was struck with a metal bar in the face and again as he tried to crawl away from his assailant as he was on the ground - in an assault police are describing as "cowardly".
Police are appealing for information about the attack on a 30-year-old Pizza Hut delivery driver, who was attacked while delivering an order of pizzas, sides and drinks outside a vacant Melville home just before 9pm on Sunday.
The man suffered serious facial injuries after his assailant attacked him with a metal bar before stealing what he had ordered.
Police have described the attack on the man, whom they are yet to formally interview, as "cowardly".
"Arriving to find no one around the victim heard a call towards the back of the property which he went to check, when he has been struck to the head with a metal bar ... which has dropped him to the ground," said Waikato Field Crime Manager, Detective Inspector Karl Thornton.
He said as the victim tried to crawl away the attacker struck him with the metal object again before he was able to escape to his car and drive back to his workplace and raise the alarm.
Mr Thornton said it was still unclear whether the attack was planned or opportunistic but it had no place in Hamilton, which had forged a reputation as being a family-friendly, event capital of the country.
"It's therefore important that when incidents such as this occur those with information come forward and share it."
Rita Croskery, mother to Michael Choy, who also worked for Pizza Hutt, said there were similar hallmarks with this attack and the one on her son, who was bludgeoned to death with a baseball bat before being robbed of his pizzas and cash outside a Papakura home in 2001.
In that incident Mr Choy was lured to a house, alone, at 9.15pm.
"It really brought back some horrible memories," she said.
"I felt sorry for the guy and it's a wonder he wasn't killed."
Ms Croskery said it was dangerous for pizza drivers to be working alone. She said she had tried to convince pizza companies to buddy up when making deliveries.
"I stipulated they should have a peer ... it's not a very safe environment now when they go out on their own.
"I just think it's horrific that this is still happening ... sometimes you even have women who go out and do deliveries."
Surbi Bahl, general manager, Pizza Hut, said the driver was admitted to Waikato Hospital on Sunday night but had been released. He said staff were shocked by the attack and he asked anyone with any information to assist the police with their investigation.
"Thankfully incidents such as this are extremely rare. We are thankful that our delivery driver was able to escape this cowardly attack."
Mr Bahl said Pizza Hut had health and safety policies in place to keep drivers safe on the job.
He said all delivery drivers received training on what to do in situations where they feel their safety is at risk.
Unite national director Mike Treen said many pizza delivery drivers earned less than minimum wage after their vehicle and petrol costs were taken into consideration.
He accused Restaurant Brands of absolving itself of responsibility by not making many of their drivers regular employees and added many drivers were taking friends or their partners with them on delivery runs for added security.
"The company, in my view, takes limited responsibility for the health and safety issues associated with it - it begins with the problem of making them self-employed contractors rather than regular employees."
When pizza deliveries go wrong
August 4, 2013
A Hamilton Pizza Hut driver, 32, is lured to a vacant house where he is knocked to the ground with a metal bar about 9pm. His attacker keeps hitting him as he tries to crawl away before stealing the pizzas, side orders and drinks that had been ordered. The driver's face is severely injured but he drives off to raise the alarm.
March 10, 2009
A 51-year-old is punched and kicked by three men in Manurewa while delivering a pizza to a house in Solveig Place at 9.15pm. The trio then steal the man's car and a small amount of money he was carrying.
July 25, 2005
Pizza Hut driver Martin Huang, 27, is beaten unconscious after being called to deliver an order to the southern Tauranga suburb of Parkvale. Police said he was lured to an address in Baycroft Ave by three men who intended to rob him.
September 12, 2001
Pizza Hut contract driver Michael Choy is beaten with a baseball bat after being lured to a Papakura home about 9.15pm. He staggers several hundred metres to his father's home where he is found unconscious but he dies of his injuries the following night. Four males and two females aged 12 to 17 are charged with murder and aggravated robbery and a further two females are charged with aggravated robbery.