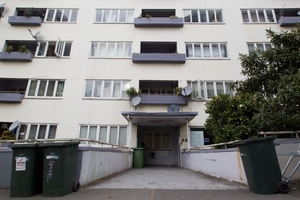 Housing New Zealand says its heritage Symonds St Flats in central Auckland have leaks and all 34 tenants must leave to allow repairs or refurbishment.
The slightly curved, art deco-style block at No 44 was built in 1948 from reinforced concrete.
The 45 apartments were built for low-income single people and couples without children.
The building has deteriorated over three months to the point where the corporation has not relet 11 of them, said central Auckland regional manager Neil Adams.
"Water is now coming into some apartments and also causing damage to the exterior plaster work."
Eight residents are pensioners who have lived there for up to 20 years.
Some tenants are tertiary students and a few were broke and homeless before being recommended for flats by social agencies.
A resident, who asked not to be named, was handed a letter by a tenancy officer giving 90 days to leave or end the tenancy within 21 days by agreement.
"Tenancy officers explained to us the need to move to other Housing New Zealand homes and promised to support us in the move," said the resident.
"But they might have difficulty finding all of us anything better, because this is walking distance to everything.
"Compared to other Housing New Zealand flats in central Auckland, Symonds St has been good, generally, for lack of violence and arguments and there is a good community spirit."
Another resident accepted the need to move, though feared a transfer to the corporation's other central blocks of flats in Greys Ave and Parnell Rise.
"It's a beautiful building that has suffered 50 to 60 years of neglect.
"But I believe a Housing New Zealand tenancy is a privilege, not a right, and I have appreciated this."
Mr Adams said failing pipes and plumbing were embedded in the concrete structure and would be difficult to fix while tenants were living there.
After an inspection, the corporation senior leadership team was concerned about a health and safety risk and decided to take a "proactive approach".
Mr Adams said tenants had high priority for rehousing and he was confident their needs would be matched. He said it was impossible to estimate how much it would cost to refurbish the block.
However, residents believed the block would no longer be available to those on low incomes.
A council spokesman said Symonds St Flats were a Category A historic place on the council central district plan. This meant no resource consent could be made for total or substantial demolition.