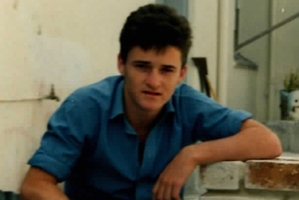 The family of homeless man Edwin Linder wept in court as they faced the teenager charged with an assault that led to his death.
Mr Linder, 42, died on Saturday, three days after he suffered a brutal beating in Mills Lane near Queen St in central Auckland.
A 17-year-old youth has been charged with wounding him with intent to cause grievous bodily harm.
But when the youth appeared in the Auckland District Court yesterday, Judge Anne Kiernan was told the police would be laying more-serious charges. The teenager was granted interim name suppression until this afternoon.
Judge Kiernan started to hear arguments for and against name suppression, but adjourned the hearing to give both the prosecution and defence more time to prepare.
She also suppressed details of those arguments that related to the ongoing police investigation and other matters relating to the case.
Mr Linder's brother was in court, supported by a detective. He was joined by a friend of Mr Linder, and the pair shared a moment together before breaking down in tears.
Friends of the accused were also in court. One of the youths made an appearance in the dock on an unrelated assault charge about an hour before the accused.
As the group arrived at court their mood was jovial. They joked about the accused and bragged to one another about where they had slept the night before - some in Albert Park and others in a sport clubhouse.
But soon, the gravity of the situation appeared to set in and the group became upset. Several teenage girls cried as the accused appeared, and one yelled out, "Love you", despite being told to "stay calm" by court staff.
The group also seemed to know Mr Linder, discussing him by name and recognising that his family were in court.
Lawyer Siobhan Buckley, acting for the accused teenager, did not apply for bail and argued that naming him and publishing his photograph would impinge on his right to a fair trial. "With respect, it is early days," she said. "It's not as if everything is known for certain."
Judge Kiernan remanded the 17-year-old in custody until this afternoon's hearing.
Yesterday, the police investigation continued. A post-mortem examination took place and officers were back in Mills Lane speaking to people who frequent the area.