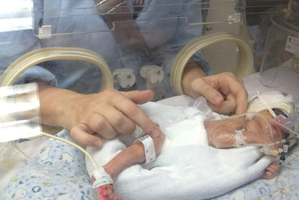 The Kiwi baby stranded in Shanghai after being born three months early is growing stronger each day, but her parents face weeks of separation until she's strong enough to come home.
Amy and Greg Hewgill are working with an Australian-based international air ambulance on a plan to transport little Lily to Auckland.
The couple were on their way home from a holiday in Europe when Mrs Hewgill went into labour unexpectedly. She was 27 weeks pregnant.
Lily's birth weight was 990g and she battled huge health problems, including underdeveloped organs.
She remains in an incubator in a Shanghai hospital, which requires her parents to prepay all her costs and get permission to see her.
They hope to bring her home as soon as doctors say she is strong enough. Mr Hewgill returned home last week to organise their affairs. Mrs Hewgill remains in Shanghai.
Expats in China and the Ministry of Foreign Affairs and Trade are assisting with accommodation, transport and interpreters.
"I am so grateful to all the people who have been supportive of us, as it helps us to continue taking one day at a time," Mrs Hewgill said.
Almost $90,000 has been donated and the Hewgills were blown away.
"There is a Chinese proverb that says, 'When you have a rough start, your life will be smoother later on'," Mrs Hewgill said. "I'm really hoping this applies to our little girl. She's had a rough couple of weeks but she's been a real trooper."