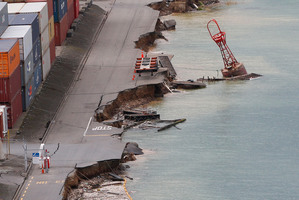 A frenzied hysteria arose in Wellington following the "big one" two weeks ago. I've experienced hundreds of earthquakes but never get used to the sense of helplessness.
I was writing in my library when it struck, violently jerking the house a metre back and forward every second. Books, pictures and vases crashed about me. Adjacent to my library is the safest place to be - the billiard room - but walking was impossible as I gripped my chair like riding a bucking bronco. Afterwards, paintings and diverse items lay everywhere, all undamaged. A dinner plate had shattered, otherwise my house, sitting on a fault-line, was unscathed.
Two days later our cat, who has never forgiven me for introducing a tiny kitten into the home, returned inside. The look she gave me made it clear I'd failed her again and the earthquake was the last straw. She haughtily went upstairs to sulk over this final betrayal to her previous life of certainties.
The 6.5 earthquake was quickly world news. Shortly after, a lesser one in China killed over a hundred people. The phone began ringing as family and friends from as far afield as Estonia called. What was interesting was who didn't, inducing the Dominion Post's cartoonist Tom Scott to draw a cartoon on that theme on Wednesday. I had lunch with Tom last week and he said it had been a common complaint.
The following morning, public transport was cancelled and everyone was urged to stay out of the city until midday. To their credit six of my staff turned up. It transpired some had been up until midnight on Sunday dealing with calls from lessees. With 14 buildings my company is the largest CBD owner and the next two days were frantic with lessees behaving like my cat and all but blaming us for the quake. We gave the staff $1000 bonuses each for enduring the abuse.
Everyone demanded written engineers' reports before they'd re-enter. My manager said at least 50 outlined "their specialness", justifying priority. But not a single building was affected, including hundreds of historic buildings, currently classified as dangerous, all insurance claims relating to breakage losses.
Immediately following September 11, 2001, all Wellington commercial buildings had their insurance premiums cynically doubled because of the purportedly "just discovered risk".
It was opportunist and Wellington property identity Ian Cassels, inflamed about it, became involved with the government seismologists, his efforts culminating with a 2002 meeting attended by affected parties. I specially remember one seismologist saying, "We're not concerned about Wellington buildings. They're constructed to withstand earthquakes. It's Christchurch we worry about but no one listens."
After Christchurch, yet ever higher standards were imposed. We spent over $10 million covering further minor contingencies to our structures, attaining a very high standard. We even had the engineering peer-reviewed by a leading San Francisco earthquake engineer who felt it was all overcooked. Last year, California's Seismic Safety Commissioner, Dr Kit Miyamoto, was here and criticised the over-the-top engineering in Wellington.
Hundreds of small building owners, many heritage-listed, simply cannot afford it. But here's the rub. Every building is constructed 100 per cent to the prevailing standard. Then, periodically, the authorities keep lifting the standards and demand owners upgrade accordingly. Morally they should meet this cost which can run into millions. These actions are central government-induced yet far from offering to pay, they refuse to even allow these expenses to be deducted.
Finance Minister Bill English will have blood on his hands should anyone be killed in a future quake by one of these historic structures. Two years ago English removed depreciation allowance from commercial buildings, the only country, to my knowledge, to do so. He based this on a blatant lie provided by Treasury, always ready to write bogus reports supporting an agenda.
They produced a 15-year study showing New Zealand commercial buildings had enjoyed an annual appreciation of 2 per cent. Why 15 years and why that particular 15 years? I can answer. They took their starting year when building values collapsed to a historic low, and their finishing, the greatest boom year ever. Make their starting date five years earlier and a diametrically opposite outcome arises. Most KiwiSavers are affected by this dishonesty, their funds usually including a commercial property component.
It's widely believed English has a childish snitcher on the property industry. God knows why as someone has to own the buildings. He said as much to a group of Wellingtonians this year. It's no secret the commercial property industry, numbering over 100,000 people in all of its ramifications, favour Labour governments simply because they like vibrant economies.
As the past 40 years show, these always accompany Labour's periods in office. But, the stultification corresponding with National governments is welcomed by bigger players as it throws up acquisition opportunities, aside from which there's more to voting than economic issues and dull governments never last forever.