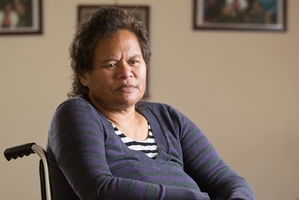 A dialysis patient is refusing medical treatment until issues with an Auckland taxi company, which transports patients to and from their appointments, are sorted.
Akerangi Marsters Kupa is among a group of dialysis patients who are protesting against Auckland Co-operative Taxis.
Mrs Marsters Kupa, 53, requires dialysis treatment three times a week. Dialysis is carried out on people who have had a kidney failure. The treatment can take up to six hours and being late can mean reduced treatment.
In the past three weeks, she has been late several times to her appointments, with delays of up to two hours. She has been dropped off at the wrong house three times and has only once been helped to the door of the hospital or her home - despite being blind.
"I usually have a support woman with me. But when that support is not around, you expect somebody to have the courtesy to help. When you're put in with a taxi driver who blatantly doesn't want to help you and leaves you there to try and fend for yourself - no, that's not on."
She and several other patients had made numerous complaints about drivers not treating them well.
"This is the only way I think they'll start listening to us. I know the risks and I'm prepared to hold off as long as I can."
Auckland kidney specialist Dr David Voss said: "You won't get into serious trouble missing dialysis for a few days. But you will die without it. She needs dialysis to stay alive. It's as simple as that."
Auckland Co-op Taxis took a contract to transport patients for the Auckland, Counties Manukau and Waitemata district health boards in mid-July. Before that, patients were transported by North Harbour Taxis.
Mrs Marsters Kupa said Co-op drivers were open about their policy, which was to "pick up and drop off and nothing else". The flat rate for a driver for a contracted job was around $1.80 a km - effectively half the usual fare.
Auckland Co-op Taxis general manager Barry White said the company had been advised not to comment to media and to direct all inquiries to the DHBs.
Health Alliance, which contracts the taxi service on behalf of the Auckland DHBs, said it had been made aware of the complaints.
Chief executive Mike Schubert said: "We are actively addressing matters that have arisen and will continue to deal with any patient concerns."