Life-changing accident inspires efforts to help people walk again.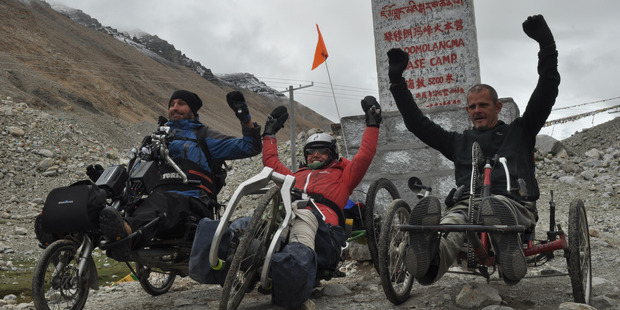 Tell us about someone who has inspired or been a mentor to you?
CatWalk's managing director Meg Speirs - her loyalty and belief in our goals is unwavering, her humour is infectious and she manages to keep a team of part-time mums and volunteers motivated. As founder I often get the acknowledgement for the success of the trust, but it's Meg and her team who make me look good.
What has been a low moment in your leadership journey and how did you deal with it?
Two things have shaped my life - losing my incredible mother at 54, and breaking my neck in 2002. In any low moment we always ask, why me? Through experience we learn that we all go through tough times and it's how we relate to those around us, both close and not so close, that determines our future plans.
As a leader, what's the secret to getting people to support and share your vision?
Often, when I've been chewing over an idea for a while, I can get caught by presenting it to the team as if they've been with me through the whole thought process. I've learned that I need to explain more about the process of getting to the idea, engaging them in the steps along the way, so once we get to the ideal final outcome it's the team's idea, not mine.
What does a typical day "at the office" look like?
My day is chaotic but I wouldn't have it any other way. I begin with a swim or a cycle most days and then, while I have my amazing carer with me, any household requirements. With my legs not working, and having limited functionality of my hands, we often do meal preparation together. From 11am onwards, I'll be head down in the office, either supporting my husband Sam with our Little Avondale Stud business, or CatWalk and our goal of getting people out of wheelchairs and back on their feet.
Where do you see yourself in 10 years?
Hopefully walking, but definitely sharing our friends' children's achievements. We are godparents to nine and aunt and uncle to five, with another on the way. Encouraging them to reach for the stars, the way my parents did, is something both my husband and I are dedicated to.
Who's a leader you admire and why?
We have eight CatWalk patrons: Zara Phillips, Sir Mark Todd, Sir Brian Lochore, Richie McCaw, Lance O'Sullivan, Sarah Walker, Aaron Slight and Dion Nash. I am in awe of each of them - their incredible sporting talents and their personal values.
What is a big goal you have at the moment?
We've just completed a big goal, to cycle from Lhasa to Kathmandu, via Everest Base Camp, and raise as much money for research as we could. The target was $1 million. The 28-day journey was two years in the planning and it's nearly impossible to describe how difficult it was. There were three "wheelies" and 12 able-bodieds. Due to a unique team effort we all achieved a world first, getting three wheelies to Base Camp on handcycles. The emotions epitomised the struggle we had all gone through to reach our goal. It was a magic trip, a magic team and a magic result.
What is the best part about being a Blake Leader?
Being surrounded by inspirational people who've achieved not just national success but international. The alumni make me very proud to be a New Zealander.
Catriona Williams
As founder and a trustee of The CatWalk Spinal Cord Injury Trust, Catriona Williams is focused on funding research to help people who've suffered spinal cord injury to walk again. A talented equestrian, Ms Williams represented New Zealand in the early 1990s, but an accident in 2002 left her a tetraplegic. Her determination is now channelled into CatWalk, which has raised more than $3 million to help with research into new treatments. Ms Williams recently returned from the Himalayas where she handcycled from Lhasa to Kathmandu, climbing 10 peaks, five of which were over 5000m, to raise $600,000 for CatWalk. In 2010, Ms Williams received a Sir Peter Blake Leadership Award for her exceptional contribution to New Zealand and for inspiring countless others with her courage in the face of adversity.