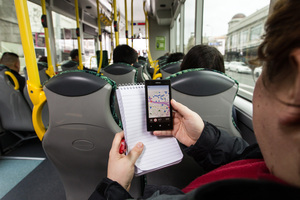 New technology being rolled out on Auckland trains could prevent a repeat of the train crash which killed 80 in Spain - but the Herald on Sunday nabbed fast-travelling buses while monitoring public transport this week.
Investigators say the driver of the Spanish train last month received three warnings to reduce speed in the two minutes before the train hurtled off the tracks. KiwiRail says new electric trains in Auckland will stop if warnings are ignored.
However, using the simple smart phone application HERE Drive, we clocked five buses travelling at least 9km/h over the speed limit on seven occasions. Fourteen bus journeys were monitored during the week, with nine bus drivers keeping within the speed limit.
Northern Express bus driver Adam Hussein hit 77km/h in the 50km/h zone Esmonde Rd off-ramp. He later reached 91km/h on the 80km/h-limit northern busway.
Hussein said he was "running short on time", and needed to keep his bus on schedule.
Ritchie's Bus managing director Andrew Ritchie said that was no excuse. "We don't condone that."
The company received few complaints about speeding, Ritchie said, but when it did the driver was almost always trying to do the best for their customers.
Waka Pacific bus driver Tua Manu kept below the speed limit for almost the entire journey from Otahuhu to downtown Auckland, but on Grafton Bridge was 12km/h over the 30km/h limit. "Maybe I wasn't watching the speedometer on there," he said.
NZ Bus chief operating officer northern Shane McMahon was pleased six Go West buses monitored didn't exceed the limit, but was disappointed a Waka Pacific bus had.
"Grafton Bridge is well sign-posted. Health and safety is our first priority ... we will take action."
Birkenhead Transport - whose drivers were over the speed limit four times - could not be contacted.
Auckland Transport spokeswoman Sharon Hunter said there were few complaints about speeding on public transport. Most were about services running late.
The app picked up Alert Taxi's Jun Paek over the limit three times between Sunnynook and downtown Auckland. Paek, who said he had two speeding tickets while driving his own car, said he felt pressured to speed, especially on the Harbour Bridge. "The cars following, they complain. Sometimes they honk."
Alert chief executive Tim Simpkins could not be contacted.
Two rail journeys on the southern and western commuter train lines were entirely within speed limits.
KiwiRail spokeswoman Jenni Austin said an automatic train protection system was being installed on Auckland's commuter rail network as part of the electrification project.
"If the driver tries to go further or faster than the signal allows, the train will warn the driver. And if he doesn't correct it the ... equipment will bring the train to a stop."
Auckland's electric train service is expected to begin early next year, with the fleet introduced over the following two years.
The HERE Drive app can be downloaded free at windowsphone.com. Send your findings to news@hos.co.nz