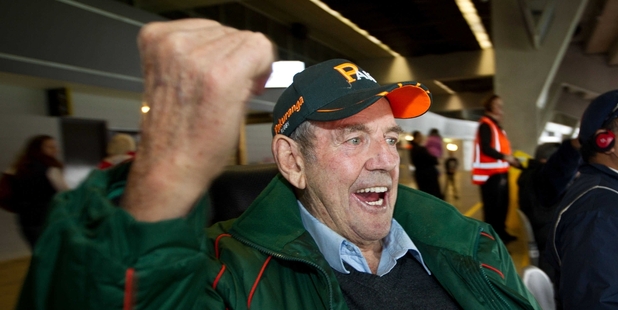 From ragtag beginnings of rickety posts and pockmarked fields, Pakuranga United Rugby Club began a 48-year legacy which culminated in yesterday's 55-12 drubbing of University to secure the coveted Gallaher Shield at Eden Park.
It was the first time that the proud East Auckland club had contested the shield in a final, a game which stalwart supporters said was perhaps the most important in its history.
The club's longest-serving member and patron, Trevor King, said the victory was the result of generations of grassroots support.
"When it started, there were no facilities and just a scungy old club down in Howick Domain; at one point it looked like there was no future for us.
"We've been battling to get up to the Gallaher Shield for 50 years and the result today is the result of many, many years of planning and development. You couldn't describe how proud I am to think that the club's got to where it is today and they deserve every bit of it."
King, 87, was around when the club was still known as Howick in the 1950s before it was moved to Lloyd Elsmore Park and renamed Pakuranga in 1965.
"Since then we've developed some real stars - Peter Corlett, Charles Piutau , Tom McCartney. They're very good players who've gone through the grades."
Another of the club's success stories, Japanese international player James Arlidge, said he never expected Pakuranga to reach this level.
"The club's always had that ambition but back when I was playing we were up and down between first and second division so for the club to be in a Gallaher Shield final is just a massive, huge achievement."
Jim Ruka, the head of Pakuranga's supporters' club, reckons he's cooked 48,000 sausages in the past seven years of home games on the club's barbecue.
"We'd be the biggest supporters club in Auckland, easy. Lot of cooking," he said.
"You only need to come to our home games and see the turnout every week. Grassroots, all the way."
Former club president Harold Hack travelled from his home in Bay of Plenty to watch yesterday's game, and he said others who turned up had never been to Eden Park before.
"After 48 years, suddenly for this to happen, it's worth a trip tot Auckland, and the whole of east Auckland also turned up," he said.
"(Head coach) Pita Alatini has done an excellent job, as did Wayne Pivac before him. They have got the boys to come together and stay together. It's been a long time coming but all the stars aligned at last. Goes to show; you don't buy a rugby team, you build a rugby.''
Alatini said his team had built on the momentum which began when Pivac took over as coach four years ago.
"But the club has been around for 48 years and it was the first final in that time so for us to win it in that fashion, I'm just over the moon.
"With the calibre of players I've seen this year, it shows there's always room for club rugby and we've got to protect it."
- APNZ