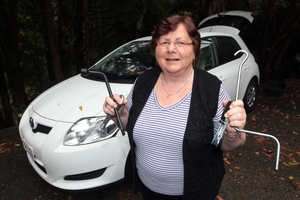 An elderly motorist was showered with kindness after she was stranded on an isolated country road with a badly punctured wheel during a sentimental trip to a beach where her adult son drowned.
Her rural experience is a far cry from that of elderly arthritic man Phil Fewings, who was refused help at an Auckland service station.
The Mobil Clearview station apologised this week after it was revealed Fewings, 82, was refused assistance to put fuel in his car.
But 72-year-old retiree Val Moore encountered a much different side of New Zealand.
Moore is praising the help she received from Kaipara District Council staff and a garage owner.
They went to her aid when a front tyre punctured on a remote Northland road, 10km from Kaihu.
The flat tyre occurred when she was returning from Maunganui Bluff, which overlooks the beach where her 35-year-old son Kevan drowned in front of her during an Anniversary Weekend fishing trip in 2006.
With her tyre punctured and unable to get cellphone reception, Moore decided to flag down a passing motorist to ask for a lift higher up the hill to phone for help.
To her surprise, two Kaipara District Council dog control officers insisted on changing the wheel for her.
They then followed her along the unsealed road until she had arrived at Kaihu Motors.
When she arrived at the garage, owner Robin Bracey dropped her off at her sister-in-law's home while he fixed the car for her return trip to Warkworth.
But the service went well beyond fitting new wheels. "When he came back to pick me up it was all washed and clean," Moore said. "I was blown away."
Moore said her treatment was something to crow about in light of the poor service elderly could receiving at city service stations. "I think country people care for each other and that's the way it is," she said.
Bracey, who has owned the Kaihu Motors garage for 24 years with wife Glenys, said it was "just what he did" for customers.
"It costs nothing to be nice," he said.
Kaipara District Council spokeswoman Barbara Ware said animal control officers often got a bad rap but she was heartened to hear positive feedback.
"We're rural and everyone looks after each other," Ware said.
"It's good to know that kind of thing happens out there."