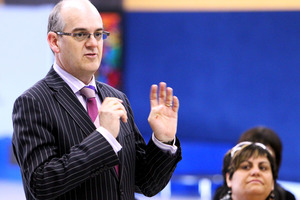 Major work is underway to reduce wait times for tests such as colonoscopies as part of the Government's $16 million faster diagnostics project, the Health Minister says.
Tony Ryall said waiting times had been a major issue but progress had been made.
"Around 40,000 colonoscopies were performed by District Health Boards in the last financial year, a 20 per cent increase compared to 2008/09", he said.
A national referral criteria had been developed which would help doctors decide who required a colonoscopy and how quickly they required it, he said.
This would link in with a newly established system that monitored how long patients were waiting for the procedure, he said.
"We are starting to see positive results. In May around half of patients requiring urgent colonoscopies met the new waiting time indicator of 14 days.
"While more work is needed, we are seeing an improvement in how many people are receiving their colonoscopies within the newly set timeframes."
This was a vast improvement on waiting times experienced seven years ago, he said.
"A 2006 nationwide survey found only 42 per cent of patients with potential bowel cancer had a colonoscopy within three months...and in 2007, more than 800 patients with bowel cancer symptoms, including rectal bleeding, waited over six months for a colonoscopy."
************
Factbox:
* colonoscopies help determine health conditions of the large bowel, including bowel cancer;
* New Zealand has one of the highest bowel cancer rates in the world;
* it is the second highest cause of cancer related death;
* more than 2800 people are diagnosed with bowel cancer every year and more than 1200 die from the disease; and
* those diagnosed with bowel cancer, and received treatment at an early stage had a 90 per cent chance of long term survival.
Source: Ministry of Health
- APNZ