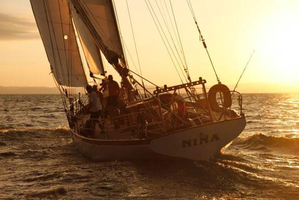 More than a month after the schooner Nina disappeared in transit from Opua to Australia, there has still been no evidence or any sighting that might explain what happened.
Maritime NZ media adviser Steve Rendle said all the information the organisation had was handed over to the private search and nothing new had arisen.
After leaving Opua on May 29, the yacht never arrived in Australia, and on June 25 an extensive air search was mounted.
The families of the seven crew on board the missing 21m schooner, who carried out their own search, criticised the official search, saying it may not have been carried out in the right location.
It is presumed the classic yacht sank in a Tasman storm it was battling on June 4 when its last message - a telephone text - was received. The Nina was 685km west-northwest of Cape Reinga, in 8m swells and winds gusting to 110km/h.
On board were Americans skipper David Dyche III, 58, his wife Rosemary, 60, their son David Dyche IV, 17, Evi Nemeth, 73, Kyle Jackson, 27, Danielle Wright, 18, and Briton Matthew Wootton, 35.
Experts have said the schooner was unseaworthy and that skipper David Dyche III did not favour modern technology. The yacht had no long-range radio and its emergency locator beacon was not switched on.
For more articles from this region, go to Northern Advocate