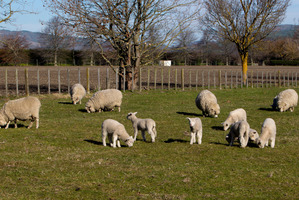 A Northland farmer is perturbed 86 sheep have been rustled from a remote paddock and is considering installing security surveillance.
Whangarei-based Geoff Crawford leases Te Paki Station, just South of Cape Reinga, and runs thousands of sheep there.
Over the past few weeks 86 ewes have been stolen.
Mr Crawford said it appeared the theft was fairly organised and a neighbouring farmer had also had 24 sheep stolen during the same period.
"The property is at the end of the road and you have to go out of your way to get to the paddock. This has been a major hit on the flock," he said.
The ewes had been scanned a few weeks ago and were not in lamb.
When it came time to shift the sheep this week the theft was discovered.
"It's not uncommon to have a few escape under the fence into the next paddock but not 86. The alarm bells started ringing."
The ewes, which had a red dot painted on their backs, had recently been drenched which would make their meat risky to eat.
"You can get pretty crook if you eat them after they've been drenched. Butchers would have to be careful if they were offering them for sale to the public."
He said there were no clues in the paddock as to how the sheep were transported or moved away.
It was uncertain where the sheep would have been taken to but it was most likely to be outside Northland given the large quantity.
Mr Crawford said he was looking at how security cameras could be installed around the property.
Houhora police Constable Tracee Knowler wrote about the theft on her Facebook page.
"They are obviously being stolen to order," she said.
If you can help, call police on 09 409 8822, or send a private message on the Houhora Police Facebook page.
For more articles from this region, go to Northern Advocate