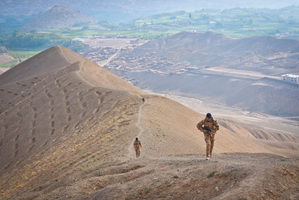 An SAS raid which left two people dead and gave rise to claims of murder by the elite soldiers led to $10,000 compensation paid for each person killed and an apology from the top brass, a new film claims.
The documentary, He Toki Huna: New Zealand in Afghanistan, which is screening this weekend, includes an interview with the manager of the two men who were killed by the SAS in December 2010.
Mohammed Lal tells correspondent Jon Stephenson how two officers came to the offices of the company to pay money for each of the dead men and to read a letter of apology.
"They gave us $10,000 for each of the families of the martyred. We ... gave it to the families."
The raid on the Tiger Group company, which provided armoured vehicles for rent, was described as murder by the police in Kabul. Defence bosses defended the raid at the time, claiming it was a case of self-defence during a joint raid with the Afghan specialist troops and Nato's International Security Assistance Force.
The raid was controversial for the casualties, but also because it featured the SAS acting alone. At the time, they were meant to be mentoring local troops who would take the lead on raids.
Military chiefs and Defence Minister Jonathan Coleman made no comment last night.
In the film, Mr Lal, vice-president of Shah Industries, says the attack was carried out by the SAS alone - a claim which NZDF have previously attempted to deny.
"There was no Afghan forces with them. If there had been ... such a sad event would not have happened."
He said one of the two visiting NZDF staff was a colonel who read a letter of apology at the company. The letter was said to have been signed "by the NZ Chief of Command". The colonel had told them he could not leave the letter because he had been ordered to only read it aloud.
Film-makers Professor Annie Goldson and Kay Ellmers originally made the documentary for part-funder Maori Television. It was expanded for the International Film Festival.
Professor Goldson said the film showed New Zealand had little understanding of what its troops were doing in their name.
• The film screens at SkyCity during the International Film Festival on Sunday at 1.30pm.