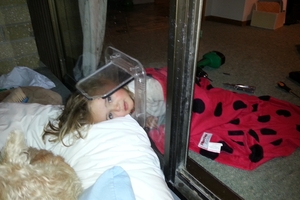 When Emma-Jane Hewlett turns 21 the story about how her head got stuck in a cat door sparking a major rescue operation is sure to generate laughter.
But it was no laughing matter on Thursday last week when this happened to the 2-year-old toddler at her family home in Mata, Northland.
It took six firefighters using cutters to free the girl and plenty of reassurance from mum Michelle.
All she had to show for the 1-hour ordeal were a few red marks on her face and head.
Mrs Hewlett said she was in the lounge with her daughter, who had been playing behind closed curtains.
Then she heard Emma-Jane cry. Pulling the curtains open she discovered her daughter with her head trapped in the cat door.
"I tried to pull her back through but couldn't. I tried a couple of times before calling in my father-in-law to help," said Mrs Hewlett.
After numerous failed attempts by granddad, Steve Griggs - a neighbour and volunteer firefighter - was called.
After realising he was unable to free the child, Mr Griggs dialled 111 and got some backup from his fellow Ruakaka firefighters.
The team then began the delicate job of freeing Emma-Jane. They put sunglasses on her and wrapped a towel over her head for protection in case the glass in the door shattered.
Mrs Hewlett kept the child distracted by playing a Taylor Swift song and taking pictures of the firefighters working to show her what was happening.
Ruakaka station officer Jeff D'Ath said that in his 20-plus years in the brigade he had completed a number of extractions but never a child from a cat door.