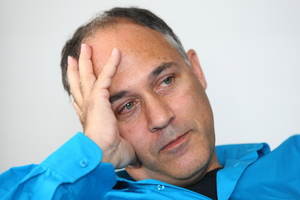 Investigative journalist Nicky Hager has told a jury hearing a defamation case he would not have approved a book, at the centre of the case, for publication due to insufficient evidence.
London-based former diplomat and civil servant Lindsay Smallbone is suing author and investigate editor Ian Wishart over the book in a civil case in the High Court at Wellington.
Mr Smallbone alleges he was defamed in a 2011 book, The Hunt, which was co-authored by Mr Wishart and George London, the husband of Mr Smallbone's ex-wife Paulette London.
The book tells the tale of a child abduction case involving two of Mrs London's children from another marriage, who were taken from her more than 30 years ago before being reunited recently as adults.
Mr Smallbone alleges he was defamed by the book, in which Mrs London said he was addicted to pornography and strip clubs, fantasised about sex with men at his church and forced her into sex shows while travelling overseas.
The pair's marriage ended about 40 years ago.
Hager told the jury today he would have felt "uncomfortable" about publishing sexual allegations from an ex-spouse unless he had done a lot of work and collaboration.
Hager told the court he had been called to give evidence due to his experience as an investigative journalist.
Hager, who has published five books unveiling cover-ups in New Zealand politics and the military, said while his area of expertise was not in sexual violence cases, standard principles governed the publication process of all books that made allegations.
"If I'm not absolutely sure of something, I don't publish it."
Publications involving individuals who had previously been involved in a relationship or marriage required extra care, he said.
"I would of course [have] confronted the person about whom these allegations are being made," Hager told the court.
When asked by Mr Wishart, who is representing himself, whether he would have published The Hunt based on the research which had been presented to him by Mr London, Hager replied he would have reached a different decision to his colleague.
Mr Hager also told the jury that in some scenarios, a "single source" may be enough for a journalist, however that source would have to be highly credible and present solid evidence.
Mr Wishart is expected to give evidence when the trial resumes tomorrow.
- APNZ