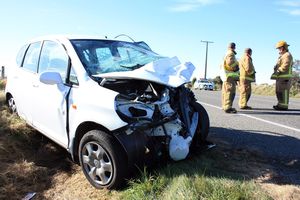 The drowsy driver who caused a head-on smash that killed Timaru financier Allan Hubbard has been left "totally shocked" by today's guilty decision.
A judge ruled that Andrew John Earl, a 41-year-old plasterer of Mosgiel, was to blame for the September 2, 2011 crash after his ute crossed the centre line and collided with a car being driven on State Highway 1, just north of Oamaru, by Mr Hubbard's elderly wife Jean.
Mr Hubbard, 83, died shortly after the crash and his wife was injured.
In his reserved decision delivered at Christchurch District Court today, Judge Gary MacAskill said Earl, 41, was drowsy or had fallen asleep at the wheel.
He found Earl, whose attendance in court was today excused, guilty on both counts and adjourned sentencing to a nominal date of August 9.
Earl's wife Janelle said that her husband has been left "totally shocked" by the decision.
"It's pretty shocking, and not at all accepted," she said.
Her husband was not available for comment, and she did not know if they would appeal against the decision.
Earl's Dunedin-based lawyer John Westgate said an appeal was "too early to even consider".
Jean Hubbard, 82, can't recall anything of the fatal smash.
She woke up in Oamaru Hospital worried that maybe she was to blame for her husband's death.
But it was Earl who was charged, with careless driving causing death and careless driving causing injury.
When Earl's trial began in early June at Oamaru District Court, sitting in Timaru, the court heard how the Hubbards had set off from their Timaru home to visit relatives in Dunedin.
They stopped to eat ice-creams in Glenavy, in the deep south of Canterbury, shortly before the smash.
A witness told the court of his concerns over Earl's "erratic" driving shortly before the crash.
He said that in his rearview mirror, he saw Earl's red Holden Rodeo 4WD ute drift into the Hubbards' oncoming white Honda Jazz, causing the crash.
Judge MacAskill rejected defence claims that Mrs Hubbard had been distracted eating the ice-cream while driving, and it was Earl that was trying to avoid the head-on crash when the collision occurred about 1.15pm.
"It is reasonable to infer - and I do infer - that the defendant ceased to control his vehicle as a result of drowsiness or having fallen asleep," Judge MacAskill ruled.
Earl should have been aware of his drowsiness and stopped driving until he was sufficiently alert.
"His failure to do so was careless," said Judge MacAskill.
At the time of his death, Mr Hubbard's firm, Aorangi Securities was being investigated by the Serious Fraud Office (SFO) and was placed in statutory management in June 2010, owing investors up to $100 million.
The SFO laid 50 charges against Mr Hubbard under the Crimes Act but those were dropped shortly after his death.
In a statement, Mrs Hubbard welcomed the case's conclusion so that both the Hubbard and the Earl families could now "move on with their lives, as her late husband would have wanted".
"She bears no ill will towards Mr Earl or his family arising out of the accident," the statement said.
- APNZ