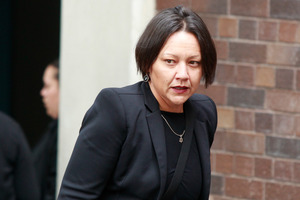 A judge has delivered a withering summary of lawyer Davina Murray's behaviour as she unsuccessfully defended herself against a charge of smuggling contraband to murderer and rapist Liam Reid in prison.
In a verdict delivered by Judge Russell Collins today, Murray was found guilty taking an iPhone, packet of Marlboro cigarettes and lighter to Reid during a visit to Mt Eden prison in October 2011.
She is likely to face a Law Society investigation and her former law lecturers at the University of Auckland said the judgement had "saddened them greatly".
In his judgement, Judge Collins detailed some of Murray's behaviour throughout the seven-day hearing before judge alone at Auckland District Court.
They included her:
* Emailing demands to the registry
* Repeatedly pursuing lines of cross-examination after such lines of cross-examination had already been ruled irrelevant * * Walking in wide circles and turning her back to the Court while cross-examining, until being directed not to do so
"On one occasion I reminded Ms Murray she was not addressing a jury," Judge Collins said.
"On one other occasion I reminded Ms Murray this proceeding was not American television."
The hearing was remarkable for other reasons.
Murray was assisted in court by Barry Hart, her former boss who was struck off this year for overcharging.
She called Reid - serving a 23-year sentence for raping and killing deaf woman Emma Agnew in Christchurch in 2007, and the rape, attempted murder and robbery of a 21-year-old student in Dunedin nine days later - to give evidence.
Despite prolonged legal arguments, Murray failed in a bid to stop phone records seized by police being allowed as evidence.
That led to the court hearing details of the relationship between Murray and Reid that the Crown said went way beyond that of client-lawyer.
Police prosecutor Anna Longdill told the hearing Murray visited Reid 61 times over eight months at Paremoremo prison and 19 times over six weeks at Mt Eden.
"The level of attendance of counsel and client became quite extraordinary," Judge Collins noted.
"In the course of this contact Ms Murray became infatuated with Mr Reid to the point where in text messages in July and August of 2011 she expressed her love for him and her desire to marry him."
Despite Reid's claims that prison guards planted the contraband, Judge Collins said he was satisfied beyond reasonable doubt that Murray delivered them.
" ... I have no difficulty in rejecting Mr Reid's evidence. It was completely implausible," Judge Collins said.
He also noted that Murray's defence had "established just how easy it would have been for her, a lawyer and frequent visitor to the facility to conceal the items and introduce them".
A Law Society investigation is likely to follow, as is standard practice for any lawyer facing criminal charges.
Murray's former law lecturers Khylee Quince and Julia Tolmie said the guilty verdict "saddened them greatly".
Ms Tolmie said Murray had been a vibrant and engaging student with a strong sense of social justice and a great compassion for those who are marginalised in society.
"Even as a student she had a willingness to take on a lot - more than most people would."
Murray has been remanded on bail until September 6 when she will apply for a discharge without conviction.
She could not be reached for comment.
- APNZ